Happy Valentine's Day! Get 20ul antibodies for just $49 until February 15.
---
💗   Love is in the lab!   💗
A Valentines gift from Proteintech. 20ul antibodies are just $49 until February 15.
Use the promo code below when placing an order direct from Proteintech. Offer ends 15 February 2019.
💗   We like you,   Do you like us?   💗
We like you, do you like us? Follow us on Facebook, Instagram, or Twitter to claim your free Valentines gift: a pink or red benchtop cooler!
Benchtop Coolers

Keeps vials at 0˚C or below on lab bench for up to 1 hour.

Insulating refrigerant chills samples quickly.

Interlocking feature if using more than one cooler at a time.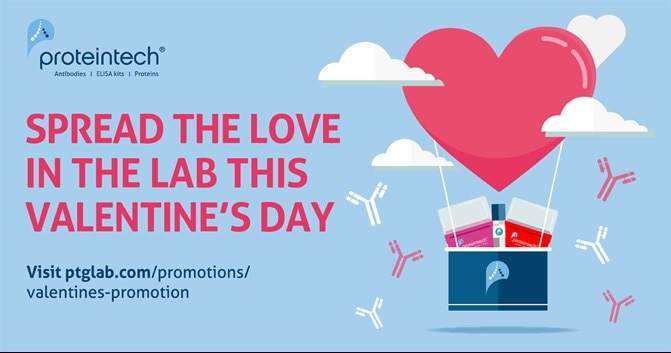 ---
Terms and conditions
$49 20ul antibodies
This promotional offer is only available to customers based in the USA.

This promotion is only valid until 2/15/2019

This promotion is only valid for 20ul size antibodies. 

This promotion code cannot be used in conjunction with any other promotional offer.

The promotion code must be entered at the check out to be applied to your order.

This promotion is only available to end users; distributors and re-sellers are not included.

Proteintech reserves the right to cancel or refuse this promotion at any time.

Usual shipping costs will still apply.
Benchtop cooler promotion
Must follow Proteintech on Facebook, Twitter or Instagram to be eligible for a benchtop cooler.

This promotional offer is only available to customers based in the USA.

This promotion is only valid until 2/15/2019

Institution email addresses only. Benchtop cooler requests using email accounts or personal accounts such as gmail, yahoo, Hotmail will not be fulfilled.

Benchtop coolers are subject to availability.

Proteintech reserves the right to cancel or refuse this promotion at any time.

By requesting a free benchtop cooler you will be opted in to the Proteintech e-newsletter. Personal data submitted will be processed in accordance with applicable data protection regulations and Proteintech's privacy policy. You can unsubscribe at any time and update or remove personal data by contacting Proteintech.
LIVECHAT
If you have any questions, contact us now via Live Chat
Chat