Winner Announced!
---
During this time, it is tempting to focus on negativity, but the world is filled with wonderful, positive people that make an impact each day.  We want to honor one such group, postdoctoral fellows who go above and beyond their duty in acting as mentors.
2021 Winner Announced!
Congratulations to this years winner of the Best Mentor Award 

Anna M. Hagenston Hertle,  Heidelberg University, Germany.

"I was so deeply touched and honored simply to have been nominated for the best postdoc mentor award. Teaching and science are unquestionably my two greatest passions, and I delight in combining them as a mentor. My heartfelt thanks goes out to my students and former students for nominating me, and to all those who have supported me over the years and as a part of the voting process. It feels wonderful to be acknowledged in this way."

Anna received hundreds of votes from colleagues and friends who all appreciate his hard work as a postdoc mentor. Anna has won a $1000 research grant and a lab care package.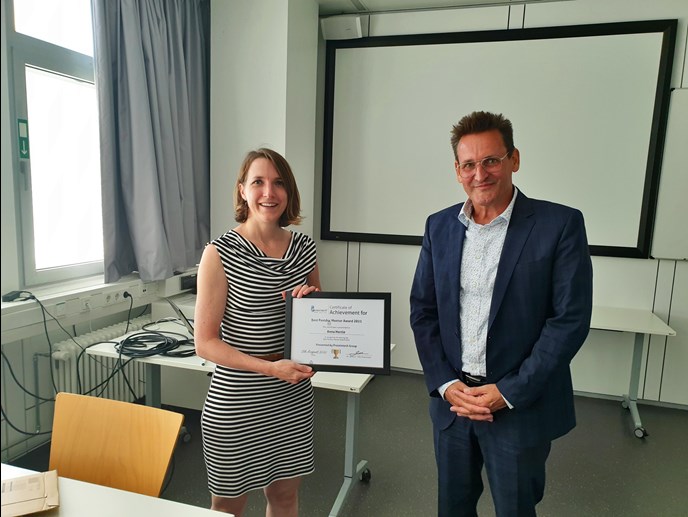 Proteintech would like to thank everyone for their nominations and participation in the voting campaign. Proteintech offers several awards and travel grants throughout the year, so keep checking back for more exciting contests!
Congratulations! Meet the 2021 finalists
Anna M. Hagenston Hertle

Heidelberg University

"Anna possesses a unique calm and inspiring energy which is rarely found in supervisors as experienced as her. Her positive attitude towards not-successful experiments has given me the determination to continue working hard and not to lose hope on many dark days. One of her favorite quotes is "always make new mistakes" which also tells a lot about her life and work philosophy in general."

Qing Cao

Buffalo University

"Qing is an incredible postdoc in Dr. Zhen Yan's lab at SUNY Buffalo, where I completed my PhD. Qing is a true anchor in the lab, always supporting and helping others without question. She is a tremendous mentor and all of our lab members have learned so much from here. Recently, I left the lab and she has happily assumed the responsibility of helping my unfinished project to publication."

Brian Cook

University of California San Diego

"Brian is a hardworking, clever, and humorous postdoc in the Herzik lab. He joined the lab during the pandemic and despite all the restrictions due to COVID, he is always willing to help other members of the labs. Brian is knowledgeable and has a good sense of humor. Because of his personality, the undergrads/his mentees are not afraid to ask questions when they are working with him."

Daisy Y. Shu

Harvard University

"I am highly honored to nominate an incredibly devoted mentor, Daisy Shu, for the Best Postdoc Mentor Award. I met Daisy as a wide-eyed undergrad seeking research opportunities in pathology. I was drawn to her social media science communication blog, and so I reached out, inquiring about conducting research in her lab. This was the beginning of a life-changing experience."

Stanley Chu

New York University

"Stanley has taken mentorship to be as core a part of his job as research. He has lent his skills to students from undergraduates through PhDs and spearheaded new directions of research in our lab, from protein design to tissue culture. Stanley's mentorship centers the students, allowing us to develop our own projects and skills. He takes the time even for students who aren't directly assigned to him as mentees."
| | |
| --- | --- |
| Open for nominations | June 7 2021 |
| End of nomination period | July 12 2021 |
| Finalist announcement and start of the voting period | July 19 2021 |
| End of voting | August 2 2021 |
| Winner announcement | August 5 2021 |
In recognition of the critically important role that mentors play in supporting and helping research, Proteintech is offering one  $1000 reward for outstanding mentorship. The winner will also receive a Proteintech 'Best mentor' mug. All finalists will receive a certificate and an Amazon kindle.
Terms and Conditions apply.*  Sign up to the  Proteintech e-newsletter  for updates.
Nominees must be postdoctoral researchers based in a research lab in a University or research Institution. 
Graduate students are invited to nominate a distinguished mentor who has positively influenced their development as a researcher.
Researchers nominating their mentors are to submit the short nomination form including a 200-word summary explaining why they feel this mentor deserves the award.
5 candidates will be shortlisted by the Proteintech judging panel. The winner will be the nominee who receives the most public votes.
---
Best Postdoc Mentor Award Hall of Fame
Congratulations to all past winners of the Best Postdoc Mentor Award! Each winner received a $1000 reward for their outstanding mentorship in the lab.
Tejeshwar Rao - University of Alabama at Birmingham, United States

Tejeshwar received hundreds of votes from colleagues and friends who all appreciate his excellent approach to mentorship. Tejeshwar has won a $1000 research grant and a lab care package.

"'I once read somewhere, that 'You don't need to have all the answers, you just have to be willing to share what you know'. And that is what mentoring is to me. It feels great to be appreciated for sharing my knowledge and things I have learnt with my juniors and colleagues. I want to thank them for nominating me and 'Proteintech' for acknowledging the same. This recognition makes me want to continue the good work, knowing that I am being admired and appreciated for my efforts."
Isha Sharma

Northwestern University, United States

"I am overwhelmed to receive best post doc mentor award. Blessed to receive all love and appreciation from peers as well as from my juniors. Thanks a lot. Thank you so much Proteintech for giving me this recognition. This award boosted my morals. Certainly its going to propels me to become better version of myself. I never knew that so many people out there support and admire me because of my mentorship."

- Isha Sharma

Dr. Callie Kwartler 

University of Texas Houston, United States

"Her ability to juggle her own projects as well as advise on other projects is admirable and demonstrates qualities of a PI. She has challenged me as a PhD student to approach questions and data in different ways. She provides a positive learning environment where I can hone my research skills and become a great scientist. Dr Kwartler has provided mentorship and guidance in balancing professional and personal life. When I joined the lab a year ago my house flooded during Hurricane Harvey, she helped me find stability in balancing work and the move out of my house. She has been a constant support throughout the year as both a mentor and a friend and I strive to become a mentor like her in the future."

- Statement from Jamie Wright (University of Texas Houston Medical School)
Dr. Janet Kumita

University of Cambridge, United Kingdom

"I am continually amazed by her efforts, and cannot think of another person more deserving of this recognition. As stated in the introduction for this award, "many critical mentors in science go unheralded." Janet does not take on the vast responsibilities that come with playing a key role in managing an entire Centre on top of mentoring many researchers to get recognition, but I am certain there is no one in the Centre who does not appreciate and respect all that Janet does for us. Our Centre is undoubtedly a better place because of Dr. Kumita, and we are all most fortunate and grateful for her guidance."

- Statement from Ryan Limbocker, University of Cambridge 
Dr. Joshua Morgan

University of Delaware, United States

"Josh consistently bolsters the quality of work and scientific questioning, student motivation, and collaborative atmosphere among every lab in the department, and he deserves to be recognized for his contributions. Talking to Josh when grad school is downright discouraging helps to remind me that I love research, and I wouldn't rather do anything else. His mentoring has inspired me to be a better mentor to my undergrads and to younger grad students in the department."

- Statement from Jilian Melamed, University of Delaware.
Terms and Conditions
Only nominators from Universities and Research Institutions are eligible to take part in this competition.

Nominees must be postdoctoral researchers based in a University Institution or research lab in the US or Europe.

All Winners agree to the use of their names and likenesses in publicity without notice or any additional compensation, except where prohibited by law. By entering this contest, the winners acknowledge that Proteintech has the right to publicize and broadcast their name, voice, and likeness, the fact that they won, and all matters incidental thereto. These activities may include the following: An interview, featuring on Proteintech blog/website, and associated press releases.

Any applications submitted after this date will not be eligible.

Nominators can only enter one nominee. Any further entries will not be eligible. Nominators must complete the application form in full.

The winner will be decided by a public voting process once Proteintech Group has shortlisted the entries. The shortlist of nominees will be made at Proteintech Group's discretion.

The $1000 award (or local currency equivalent) will be paid to the University laboratory or Research Institution to support the research of the awardee.

Award will not be awarded to employees of for-profit organizations (i.e. biotech or pharmacological companies).

The finalists will be contacted by email and also announced online.

By submitting this application, you agree to receive information from Proteintech. Your information will never be sold or used by a third party.

Proteintech has the right to terminate this award at any time during the process.

During voting process, each participant may only vote once per day.