Spot Capture and
Detection System
For immunoprecipitation, protein purification & immunofluorescence
ChromoTek's proprietary and novel Spot-Tag system is the first peptide-tag specific Nanobody for universal capture & detection applications. It comprises the Spot-Tag®, an inert 12 amino acid peptide-tag (PDRVRAVSHWSS), and Spot-Nanobodies that specifically bind to Spot-tagged proteins with high affinity.
Applications & Tools:
Explore Spot Capture and Detection Tools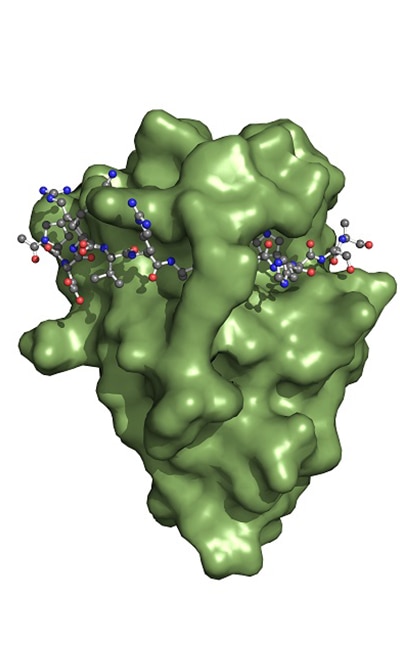 Interaction of Spot-Nanobody (green) with Spot Peptide.
For more details about the Spot-Tag system, click here.
For ease of cloning, we offer a range of Spot vectors:
Spot-Tag Vectors for cloning
Spot-Tag Vectors - positive control
For additional cloning strategies see below suggestions for codon-optimized sequences and linkers:
Amino acid sequence Spot-Tag
PDRVRAVSHWSS
Position Spot-Tag
N-terminus and C-terminus
Codon optimized sequences for Spot-Tag
E. coli
CCG GAT CGC GTG CGC GCA GTC TCT CAC TGG AGC AGC
D. melanogaster
CCC GAT CGC GTG CGT GCC GTG AGC CAC TGG AGC TCG
S. cerevisiae
CCA GAT AGA GTT AGA GCT GTT TCT CAT TGG TCT TCT
Human cell line
CCA GAC CGC GTG CGC GCC GTG AGC CAT TGG AGC AGC
A. thaliana
CCT GAT AGA GTT AGA GCT GTT TCT CAT TGG TCT TCT
Linker (optional)
We recommend a short Gly-Ser linker if there are adjacent acidic amino acids (Glu/Asp):
E. coli GGT TCT
S. cerevisiae GGT TCT
Human cell line GGC AGC
| Product | Formats (Product citations in parentheses) |
| --- | --- |
| Spot-Cap | Agarose beads |
| Spot-Label® | ATTO488, ATTO594, Alexa Fluor® 488, Alexa Fluor® 568, Alexa Fluor® 647 |
| Spot-Trap® | Agarose (3), Magnetic Agarose (6), Magnetic Particles M-270 |
| Spot VHH | Unconjugated |
| Spot-tag® antibody (28A5) | Unconjugated |
| Spot-Tag Vectors for cloning | ev-1, ev-2, ev-3, ev-4, ev-5, ev-6, ev-7, ev-8 |
| Spot Vectors - positive controls | ev-31, ev-32, ev-33 |