Spot Capture and
Detection System
For immunoprecipitation, protein purification & immunofluorescence
ChromoTek's proprietary and novel Spot-System is the first peptide-tag specific Nanobody for universal capture & detection applications. It comprises the Spot-Tag®, an inert 12 amino acid peptide-tag (PDRVRAVSHWSS), and Spot-Nanobodies that specifically bind to Spot-tagged proteins with high affinity.
Applications & Tools:
Explore Spot Capture and Detection System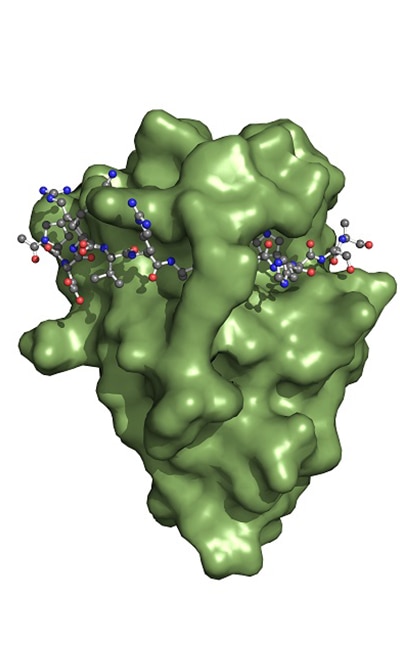 Interaction of Spot-Nanobody (green) with Spot Peptide.
| Product | Formats (Product citations in parentheses) |
| --- | --- |
| Spot-Cap | Agarose beads |
| Spot-Label® | ATTO488, ATTO594, Alexa Fluor® 488, Alexa Fluor® 568, Alexa Fluor® 647 |
| Spot-Trap® | Agarose (3), Magnetic Agarose (6), Magnetic Particles M-270 |
| Spot VHH | Unconjugated |
| Spot-tag® antibody (28A5) | Unconjugated |
| Spot-Tag Vectors for cloning | ev-1, ev-2, ev-3, ev-4, ev-5, ev-6, ev-7, ev-8 |
| Spot Vectors - positive controls | ev-31, ev-32, ev-33 |