Nano-Traps
Affinity beads for immunoprecipitation
ChromoTek Nano-Traps are the benchmark in immunoprecipitation (IP) and allow fast and reliable one-step pulldowns of even low expressed proteins. They consist of Nanobodies coupled to beads and are ready-to-use.
Benefits:
No heavy & light antibody chains
Stringent washing conditions
Low host cell protein background
Very efficient pulldown, no protein in flow through (FT)
High affinity to bind even proteins expressed at low levels
Short incubation (30-60 min)
Recombinantly expressed and validated
Nano-Traps can be applied in:
ChIP/RIP analysis
Split-Fluorescent Protein assays
Explore Nano-Traps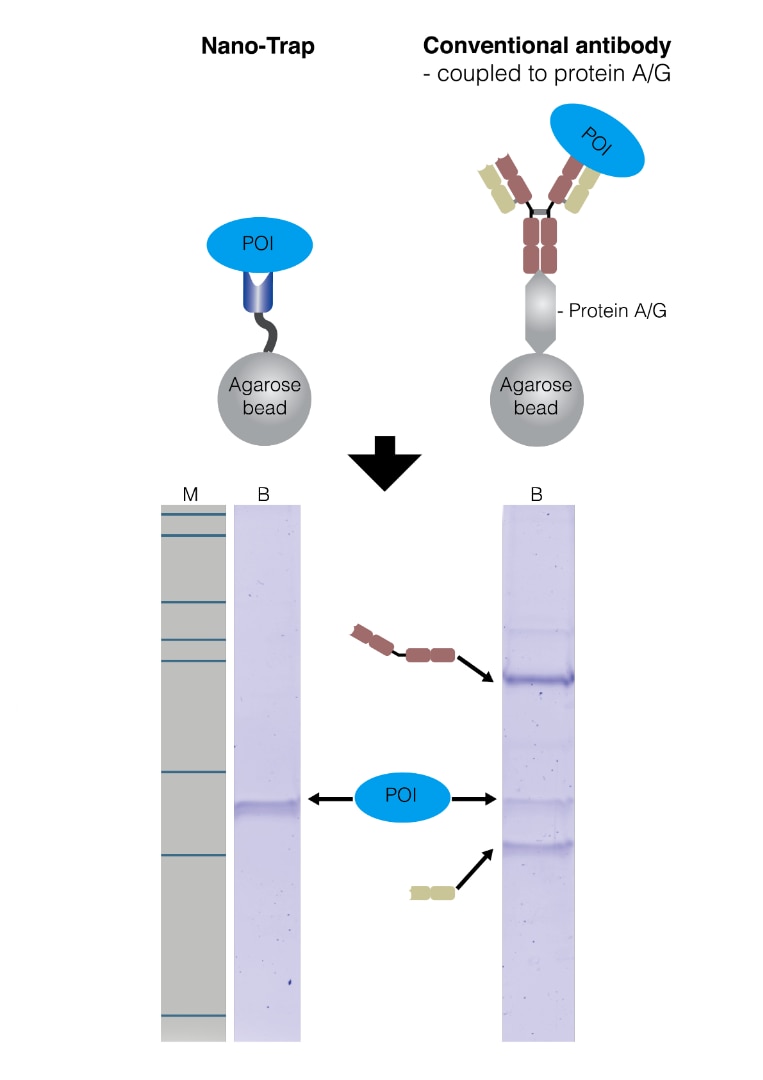 Watch why GFP-Trap gives the best results for immunoprecipitation (IP)
Low background, no extra bands & high specificity will improve your pulldown assay significantly. Alpaca Alice shows how it works. Visit www.ptglab.com/nano-trap-free-sample/ to order a free test sample.
Product
Formats (Product citations in parentheses)

New

DYKDDDDK Fab-Trap™
Agarose, Starter Pack
GFP-Trap®
Agarose (2,515), Magnetic Agarose (593), Magnetic Particles M-270 (3), Multiwell Plate (14)
GST-Trap

Agarose (9)
Halo-Trap

Agarose, Magnetic Agarose, Magnetic Particles M-270
MBP-Trap

Agarose (5)
Mdm4/HdmX-Trap

Agarose
MK2-Trap
Agarose
mNeonGreen-Trap
Agarose (3), Magnetic Agarose
Myc-Trap®
Agarose (60), Magnetic Agarose (22)
p53-N-term-Trap
Agarose (5)
p53-C-term-Trap
Agarose (1)
PARP1-Trap
Agarose (5)
RFP-Trap®
Agarose (148), Magnetic Agarose, Magnetic Particles M-270
SNAP/CLIP-tag®-Trap
Agarose (1)
Spot-Trap®
Agarose (1), Magnetic Agarose, Magnetic Particles M-270
TurboGFP-Trap
Agarose (2), Magnetic Agarose
V5-Trap®
Agarose, Magnetic Agarose, Magnetic Particles M-270