Proteintech Group: For Scientists, By Scientists
Proteintech Group was founded in 2001 by a group of scientists, who were actively engaged in NIH funded research at the time. One of the original founders and current CEO Dr. Jason Li was an Associate Professor of Immunology at the University of Illinois at Chicago during the company's foundation years. He says of the reasons behind Proteintech's establishment:

"AT THE HEART OF OUR ASPIRATION WAS A COMPANY FOR SCIENTISTS BY SCIENTISTS; AN ANTIBODY PROVIDER THAT WOULD OFFER RESEARCHERS THE ADVANTAGE — NOT INVESTORS."

As a company founded by scientists, Proteintech Group recognises the tireless efforts and sacrifices made by researchers to advance scientific discovery.

Proteintech aims to match its' customers' dedication to research by providing high quality, reliable reagents that contribute to reproducible results.
3
Awards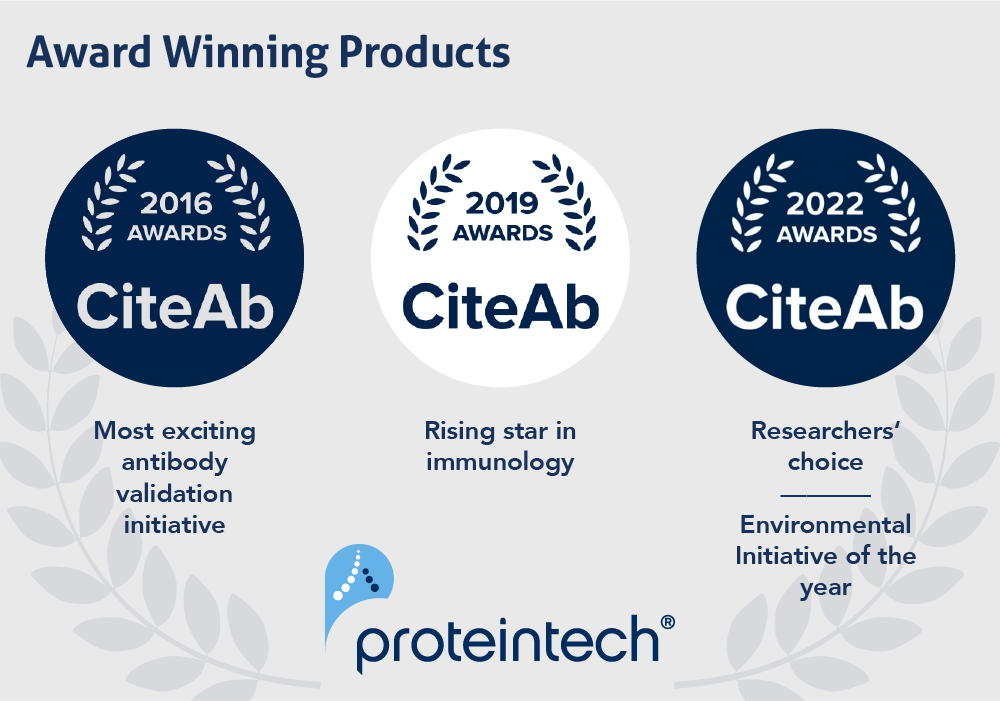 200,000+
Product Citations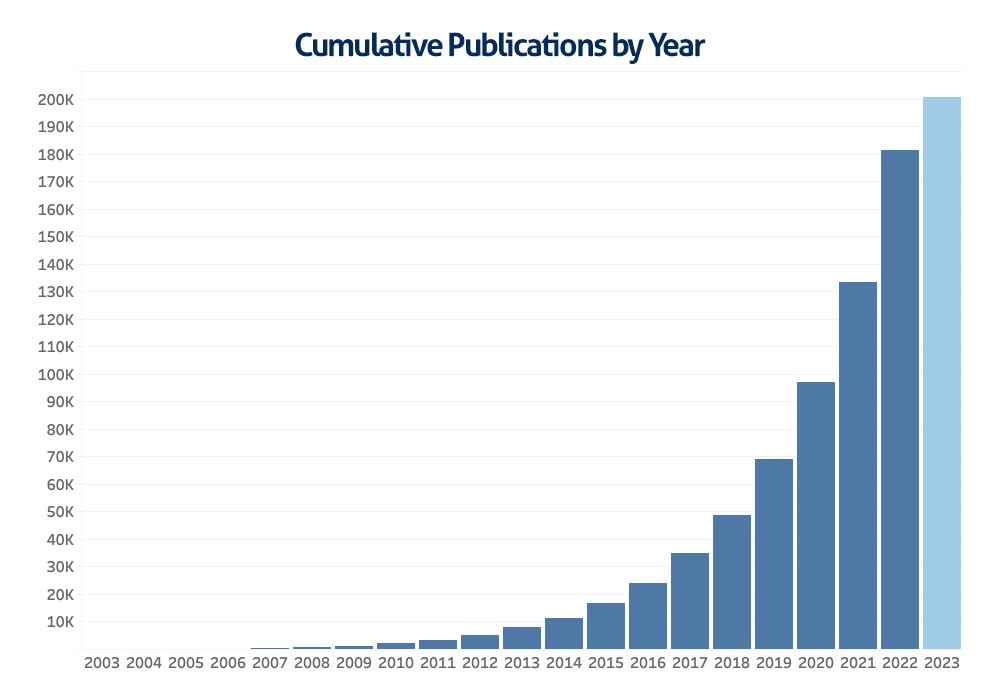 8
Offices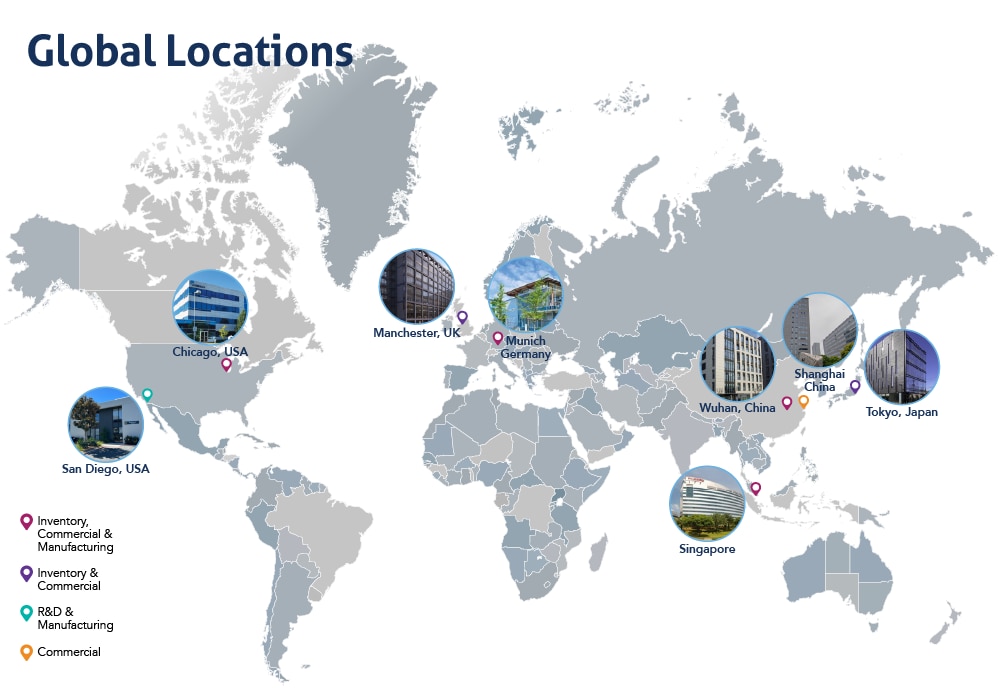 Proteintech Group Milestones
---
2001
Proteintech is founded
August 2003
First publication with a pre-made antibody (Recoverin antibody – 10073-1-AP, Kicic et al. Journal of Neuroscience)
2004
Chinese office opens in Wuhan and 100th antibody is manufactured
April 2006
First monoclonal antibody goes on sale
2007
European office opens in Manchester and a Proteintech product features in a publication for the 50th time (Wang et al, Cell)
2008
Proteintech product features in a publication for the 100th time (Zhang et al, Blood).
2008
Foundation of ChromoTek GmbH in Munich, Germany
2008
ChromoTek starts to pioneer the use of Nanobodies for research applications
2008
ChromoTek launches GFP-Trap, the worldwide first Nanobody-based reagent for immunoprecipitation of fluorescent proteins
2010
Proteintech features in a publication for the 1000th time (Nature Cell Biology).
2010
ChromoTek introduces Nano-Boosters and Nano-Labels: fluorescently labeled Nanobodies for advanced immunofluorescence.
2011
ChromoTek moves into IZB in Martinsried.
March 3 2012
First ELISA kit goes on sale and European Office obtains ISO9001 certification
2013
New lab facilities are opened and a Proteintech product features in a publication for the 5,000th time.
2013
ChromoTek licenses Chromobody® technology for high content drug profiling to Bayer.
2013
ChromoTek introduces Chromobody plasmids for real time monitoring of key intracellular target molecules in vivo.
2014
Proteintech labs obtain SPF (specific pathogen free) grade Mouse house certification. Production ISO9001 and ISO13485 certification also obtained.
2014
ChromoTek opens a subsidiary on East Coast to strengthens its customers' support in the US.
2014
ChromoTek's Fluorescent 2-Hybrid (F2H®) technology enables screening and validation of compounds in living cells.
January 2015
Launch of in-house RNAi validation department and a Proteintech product features in a publication for the 10,000th time
2016
Highest number of literature references establishes GFP-Trap® as the gold standard for immunoprecipitation of GFP-fusion proteins and their interacting partners.
2018
Proteintech acquires Humanzyme, manufacturer of human-cell expressed proteins.
2018
ChromoTek launches the Spot-capture and detection system for universal applications: This is the first peptide-tag and Nanobody used in super resolution microscopy. The inert Spot-Tag® and Nanobody can also applied in immunoprecipitation, purification, Western blotting and immunofluorescence.
2019
Launch of 500+ antibodies directly conjugated with high-performance CoraLite®488, CoraLite®594 and CoraLite®647 dyes.
2019
ChromoTek launches Nano-Secondaries®: monoclonal recombinant Nanobodies to bind with high specificity and affinity to rabbit and mouse primary antibodies in a subtype specific manner.
2020
Proteintech acquires ChromoTek, the market leader in nanobodies — high-performance recombinant reagents used for breakthrough research discoveries.
2020
Proteintech's HumanKine® cytokines and growth factors now available in GMP-compliant versions for use in clinical trials and commercial manufacturing.
2020
ChromoTek launched Nano-CaptureLigands for specific and site-directed capture of antibodies for SPR, BLI, and ELISA assays. Also V5-Trap for unparalleled immunoprecipitation of V5-tagged proteins was released.
2022
Proteintech opens a new Singapore office and warehouse at The Strategy, 2 International Business Park to better serve and support customers in the fast-growing APAC market.
2022
Proteintech establishes a new subsidiary company, Proteintech Genomics, based out of the thriving life sciences hub of San Diego, California. Proteintech Genomics is building out fully optimized and highly multiplexed proteomic assays to enhance multiomic capabilities across a number of spatial and single cell analysis platforms.
2022
Proteintech launches its FlexAble antibody labelling product range. FlexAble is a novel antibody labeling kit that uses an affinity linker to conjugate fluorochromes, enzymes, and molecules in any buffer condition
Present
Proteintech's growing catalog of antibodies against 13,000 targets is now available in 39 countries across 5 continents with over 200,000 citations.