Premade primary antibodies
1. How long will my antibody last if it is properly stored?
Our antibodies are guaranteed for 1 year after purchase. However, our internal studies show that the antibody will remain functional for a minimum of 5 years if properly stored.
2. How should I store my antibodies? Do I need to store it in aliquots?
Please store the antibody in its original tube at -20°C. Our antibodies are stored in 50% glycerol, which prevents them from freezing. Aliquoting is unnecessary for -20°C storage.
3. Could you send me detailed information for this antibody?
Yes! Feel free to  email us with the product number in the subject line. Alternatively, when you are on a specific product page, you can find a  printable datasheet by clicking the Print Icon below the product number at the top of the page (Figure 1).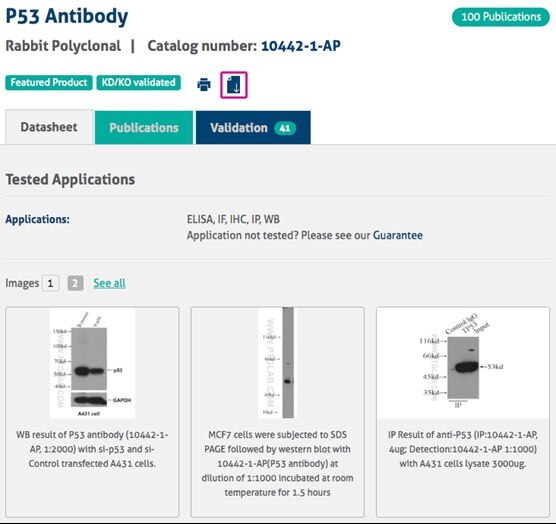 4. What is the concentration of my antibody?
The concentration of a given antibody is found on the product datasheet and on the product vial tube itself. In the event that the concentration displayed on the vial tube is different to that shown on the product datasheet, please refer to the vial tube concentration.
5. Can you provide me with the immunogen sequence of this antibody?
On the antibody product page, please click the link beside 'Immunogen' under the 'Immunogen Information' section (Figure 2) to view the fusion protein with the amino acid sequence (Figure 3). Should you require more detailed information, please speak to a member of our staff via live chat.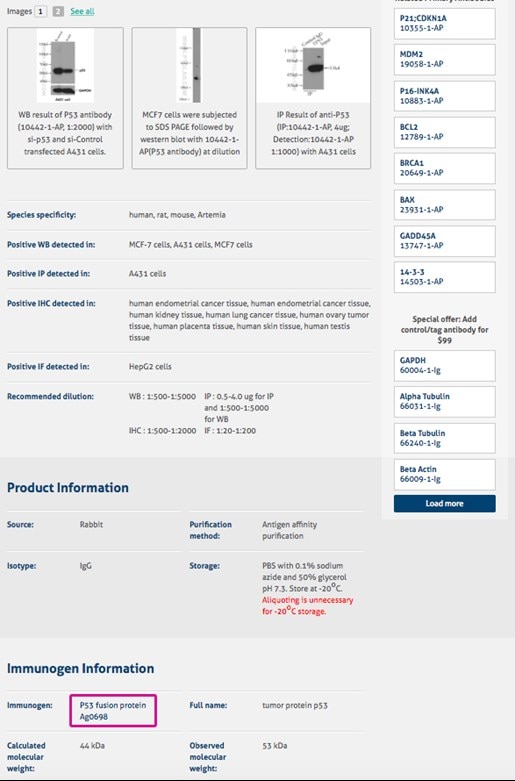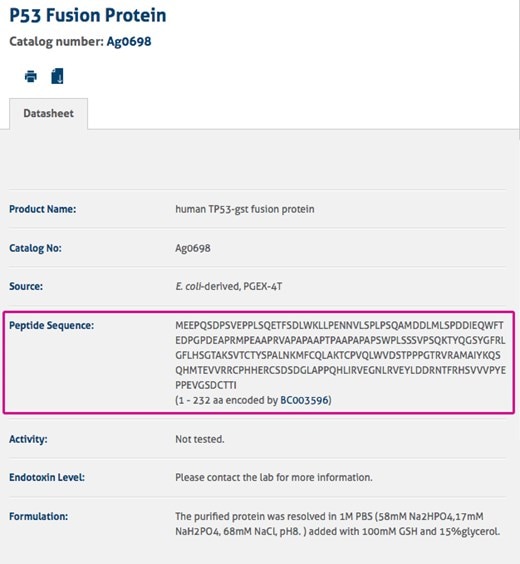 6. Is there a blocking peptide available for my antibody?
Yes, we offer blocking proteins for your experiments. A link to these products can be found beside 'Immunogen' under the 'Immunogen Information' section of the antibody product page. 
7. Has my antibody been tested on any species other than human?
We usually test our antibodies on human and mouse cells or tissues. However, our guarantee covers the antibody in any species.
8.  Which applications can my antibody be used in?
All currently tested applications are listed on each product page. Should you require more details or information regarding an application other than those listed, please contact our team.
9.  Does my antibody cross-react with other species?
This depends on the extent of protein sequence similarity between the immunogen and the potential cross-reactive protein sequence. A pair-wise sequence alignment can be performed online through the  NCBI-BLAST  website.
10.  Has the antibody already been published?
Each product page shows the number of publications and has links to the publication if the antibody has already been cited (Figure 4).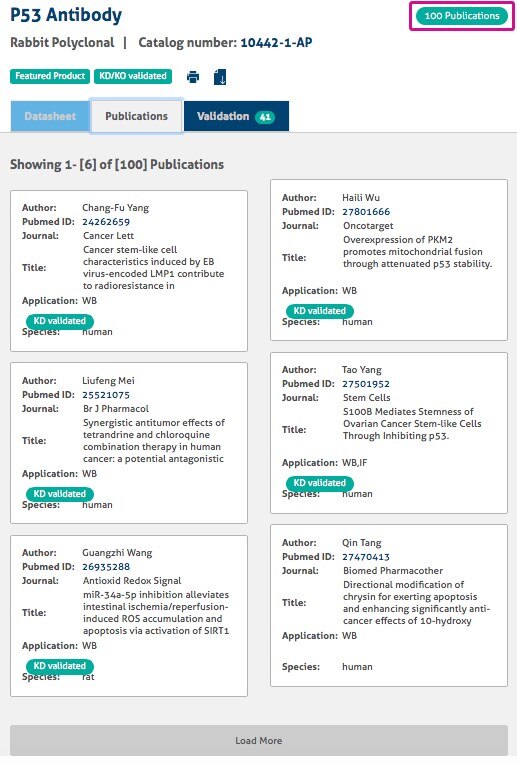 11. How do I choose a suitable secondary antibody?
The choice of appropriate secondary antibody is determined by the specifications of the primary antibody and the application (i.e., species, subclass, and fragment type).
Guiding principles for choosing a suitable secondary antibody:
The secondary antibody must be raised against the host species of the primary antibody (e.g., anti-mouse or rabbit)
The secondary antibody must be specific to the isotype class of the primary antibody (e.g., IgG or IgM)
If the primary antibody is a fragment (e.g., F(ab')2), the secondary antibody should target that specific fragment to reduce background noise
Proteintech offers a variety of secondary antibodies suitable for Western Blotting, ELISA, cellular imaging, and flow cytometry. View our secondary antibodies catalog for more detailed information.
12. How should I choose an isotype control?
Isotype controls are used to determine non-specific interactions in a given sample such as Fc receptor binding. Most isotype controls are monoclonal and most are not suitable for use with polyclonal antibodies as they contain more than one IgG class. The isotype control antibody should match the primary antibody regarding host species, isotype, and conjugation. Lastly, the sample incubated with the isotype control antibody and the sample incubated with the primary antibody should always be run in parallel.
13. How can I choose a positive and a negative control?
A sample without a primary antibody can be used as a negative control to distinguish specific and non-specific signal from the secondary antibody. Any products/stainings obtained with these control conditions can be attributed to non-specific (off-target) interactions. Furthermore, samples that have been genetically manipulated to alter the target's levels (e.g., CRISPR) can be used as a negative control.
For a positive control, any tissues, cells, or lysates that have been used successfully in our validation data set or by our customers are a suitable control. Each antibody has its own PubMed publication record on our website. Additionally, the Uniprot, Omnigene, and GeneCards databases are great resources for finding tissues/cell lines with high expression of the target. The latest publications record in PubMed can also be a useful tool for detailed and the most up-to-date information regarding target research.
14. What is the clone number?
Each monoclonal antibody has a clone number that is specific for its single clone of hybridoma cells. The clone number can be found on the product page next to the catalog number (Figure 5).

15. Why is the predicted WB band size different from the actual one?
There may be several reasons for a difference in band size, such as multimers, gel migration, relative charges, splice variants, post-translational modification, or cleavage. For more information, please contact our technical support.
16. Should I perform an antigen retrieval step for my IHC experiment?
Yes, it is recommended to perform an antigen retrieval step since the fixation process during paraffinization cross-links proteins and may mask the epitopes, resulting in weak or false negative staining. However, this situation can be rectified with a heat-induced epitope retrieval (HIER) or proteolytic-induced epitope retrieval (PIER) step. The most suitable choice depends on the tissue type and primary antibody.
For more detailed information regarding antigen retrieval steps, please check our IHC guide and protocols page.