NeutraKine™ Neutralizing Antibodies
Neutralizing antibodies are vital in virology and in investigating cytokines and growth factors. The addition of neutralizing antibodies to cell culture can specifically block the biological activity of their target proteins, allowing for the isolation of a specific protein's effects.
Proteintech's NeutraKine™ neutralizing antibodies are made using HumanKine® human-expressed cytokines and growth factors, so they are made and tested against authentic human proteins, resulting in superior neutralizing activity and biological effects.
NeutraKine™ antibodies
Ideal for pre-clinical and academic studies involving the neutralization of cytokines and growth factors.
NeutraControl™ antibodies
Developed using HumanKine authentic human proteins, but bind to different sites and do not exhibit neutralizing activity. These control antibodies can help rule out non-specific effects in your neutralizing assay.
What can NeutraKine™ antibodies do?
Block the effects of a cytokine/growth factor
Prove the existence of target proteins
Study the function of targets proteins
Study the mechanism of biological process
Evaluate the possibility of drug development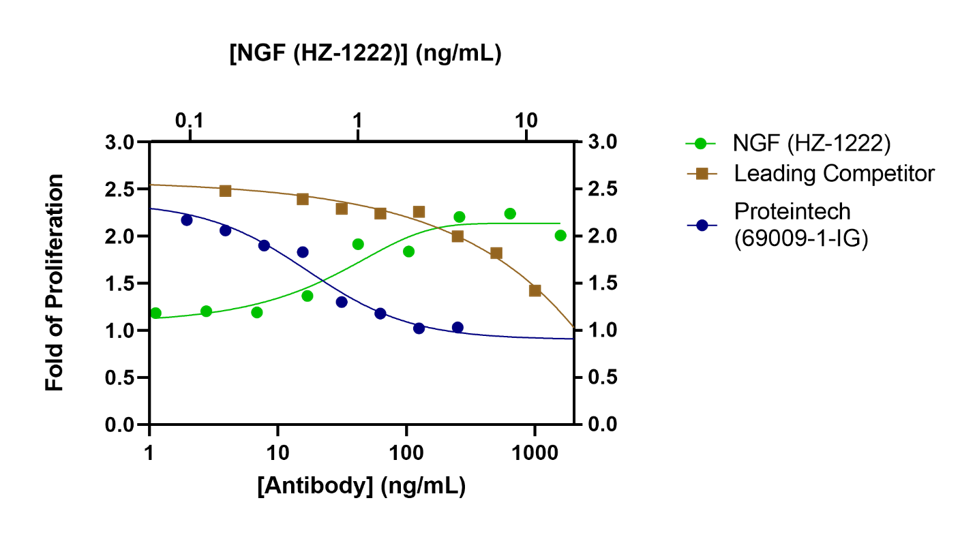 TF-1 human erythroleukemic cells proliferate in response to stimulation by HumanKine® beta NGF (HZ-1222, green line). The stimulation response from HZ-1222 (4ng/mL) is neutralized by increasing concentration of NeutraKine™ beta NGF antibody (69009-1-IG, blue line) and leading competitor's antibody (brown line). The ND50 of 69009-1-IG is over 100X lower than the leading competitor's antibody.
Comparison of neutralizing activity of NeutraKine™ products against leading competitor in parallel assays
| Target | Fold stronger neutralization | Proteintech ND50 (ng/mL) | Leading competitor ND50 (ng/mL) |
| --- | --- | --- | --- |
| Beta-NGF | 100X | 17.3 | 1700 |
| IL-3 | 12.5X | 0.8 | 10 |
| IL-6 | 6.5X | 6.3 | 41 |
All immunogens are HumanKine® authentic human proteins with authentic activity; allowing the antibodies to react better with native proteins.
All HumanKine® proteins used to generate the NeutraKine™ products are commercially available and designed to work seamlessly alongide each other.
Every neutralization validation test is performed in-house in real biological experiments
All products are provided in sterile lyophilized form with low endotoxin in PBS-only buffer (azide free, glycerol free, trehalose free).
All NeutraKine™ products are targeted to the surface of the targets; allowing potential use in liquid-based assays e.g. Sandwich ELISA, chemiluminescence , immunochromatography.
NeutraKine™ and NeutraControl™ antibodies
| Target | Type | ND 50 |
| --- | --- | --- |
| beta NGF | Mouse Monoclonal | 4-20 ng/mL ( in the presence of 2 ng/mL HZ-1222) |
| BMP-4 | Mouse Monoclonal | 3-10 μg/mL ( in the presence of 200 ng/mL HZ-1045) |
| BMP-7 | Mouse Monoclonal | 1-2 μg/mL ( in the presence of 200 ng/mL HZ-1229) |
| Cystatin C | Mouse Monoclonal | 0.5 mg/mL (in the presence of 0.4 μg/mL HZ-1211) |
| EPO | Mouse Monoclonal | 2-5 μg/mL (in the presence of 6 ng/mL HZ-1168) |
| FGF 4 | Mouse Monoclonal | 0.1-0.4 μg/mL (in the presence of 2ng/mL HZ-1218) |
| FGFBasic-TS | Mouse Monoclonal | 1-10 μg/mL ( in the presence of 0.1 ng/mL HZ-1285) |
| GM-CSF | Mouse Monoclonal | 1.5-4 μg/mL ( in the presence of 0.2 ng/mL HZ-1002) |
| IFN alpha 2A | Mouse Monoclonal | 300-500 ng/mL (in the presence of 100 ng/mL HZ-1066) |
| IFN beta | Mouse Monoclonal | 5-20 ng/mL ( in the presence of 10 ng/mL IFN beta) |
| IFN gamma | Mouse Monoclonal | 100-400 ng/mL ( in the presence of 5 ng/mL HZ-1301) |
| IL-10 | Mouse Monoclonal | 50-200 ng/mL ( in the presence of 10 ng/mL HZ-1145) |
| IL-17A | Mouse Monoclonal | 200-600 ng/mL ( in the presence of 40 ng/mL HZ-1113) |
| IL-17F | Mouse Monoclonal | 2-8 μg/mL (in the presence of 500 ng/mL HZ-1116) |
| IL-23 p40 | Mouse Monoclonal | 8-30 ng/mL ( in the presence of 4 ng/mL HZ-1254) |
| IL-3 | Mouse Monoclonal | 0.8-2.4 ng/mL (in the presence of 0.5 ng/mL HZ-1074) |
| IL-4 | Mouse Monoclonal | 200-500 ng/mL ( in the presence of 0.5 ng/mL HZ-1004) |
| IL-6 | Mouse Monoclonal | 3-15 ng/mL ( in the presence of 1 ng/mL HZ-1019) |
| Noggin | Mouse Monoclonal | 5-20 μg/mL ( in the presence of 80 ng/mL HZ-1118 and 20 ng/mL BMP-4) |
| PDGFbb | Mouse Monoclonal | 20-50 μg/mL ( in the presence of 20ng/mL HZ-1308) |
| TGF beta 1 | Mouse Monoclonal | 0.5-2 μg/mL ( in the presence of 0.03 ng/mL HZ-10111) |
| Thrombin | Mouse Monoclonal | 5-20 μg/mL (in the presence of 400 ng/mL HZ-3010) |
| TNF alpha | Mouse Monoclonal | 10-50 ng/mL ( in the presence of 0.05 ng/mL HZ-1014) |
| VEGF165 | Mouse Monoclonal | 200-600 ng/mL ( in the presence of 10 ng/mL HZ-1038) |
| Target | Type | ND 50 |
| --- | --- | --- |
| EPO | Mouse Monoclonal | 0.019-80 μg/mL (in the presence of 1 ng/mL HZ-1168) |
| IFN gamma | Mouse Monoclonal | 0.00244-40 μg/mL ( in the presence of 5 ng/mL HZ-1301) |
| IL-10 | Mouse Monoclonal | 7.8125-2000 ng/mL ( in the presence of 10 ng/mL HZ-1145) |
| IL-17A | Mouse Monoclonal | 0.3051-5 μg/mL ( in the presence of 40 ng/mL HZ-1113) |
| IL-23 | Mouse Monoclonal | 0.244-4000 ng/mL ( in the presence of 4 ng/mL HZ-1254) |
| IL-6 | Mouse Monoclonal | 0.06-1000 ng/mL ( in the presence of 1 ng/mL HZ-1019) |
| Noggin | Mouse Monoclonal | 0.0244-200 μg/mL ( in the presence of 40 ng/mL HZ-1118 and 20 ng/mL BMP-4) |
| PDGFbb | Mouse Monoclonal | 3.125-200 μg/mL ( in the presence of 20ng/mL HZ-1308) |
| TNF alpha | Mouse Monoclonal | 0.128-10000 ng/mL ( in the presence of 0.05 ng/mL HZ-1014) |
| VEGF165 | Mouse Monoclonal | 0.00244-40 μg/mL ( in the presence of 10 ng/mL HZ-1038) |
| Target | Type | ND 50 |
| --- | --- | --- |
| BMP-4 | Mouse Monoclonal | 3-10 ug/mL (in the presence of 200 ng/mL HZ-1045) |
| BMP-7 | Mouse Monoclonal | 1-2 ug/mL (in the presence of 200 ng/mL HZ-1229) |
| Cystatin C | Mouse Monoclonal | 0.5 mg/mL (in the presence of 100 ug/mL HZ-1211) |
| Noggin | Mouse Monoclonal | 5-20 ug/mL (in the presence of 20 ng/mL HZ-1045) |
| TGF beta 1 | Mouse Monoclonal | 0.5-2 ug/mL (in the presence of 0.03 ng/mL HZ-1011) |
| Target | Type | ND 50 |
| --- | --- | --- |
| IL-3 | Mouse Monoclonal | 0.8-2.4 ng/mL(in the presence of 0.5 ng/mL HZ-1074) |
| IL-4 | Mouse Monoclonal | 200-500 ng/mL(in the presence of 0.5 ng/mL HZ-1004) |
| IL-6 | Mouse Monoclonal | 3-15 ng/mL (in the presence of 1 ng/mL HZ-1019) |
| IL-10 | Mouse Monoclonal | 50-200 ng/mL (in the presence of 10 ng/mL HZ-1145) |
| IL-17A | Mouse Monoclonal | 200-600 ng/mL (in the presence of 40ng/mL HZ-1113) |
| IL-17F | Mouse Monoclonal | 2-8 μg/mL (in the presence of 500 ng/mL HZ-1116) |
| IL-23 p40 | Mouse Monoclonal | 8-30 ng/mL(in the presence of 4 ng/mL HZ-1254) |
| IFN alpha 2A | Mouse Monoclonal | 300-500 ng/mL(in the presence of 100 ng/mL HZ-1066) |
| IFN beta | Mouse Monoclonal | 5-20 ug/mL (in the presence of 10 ng/mL HZ-1298) |
| IFN gamma | Mouse Monoclonal | 100-400 ng/mL(in the presence of 5 ng/mL HZ-1301) |
| TNF-alpha | Mouse Monoclonal | 10-50 ng/mL (in the presence of 0.05 ng/mL HZ-1014) |
| Target | Type | ND 50 |
| --- | --- | --- |
| Beta-NGF | Mouse Monoclonal | 4-20 ng/mL(in the presence of 2 ng/mL HZ-1222) |
| EPO | Mouse Monoclonal | 2-5 ug/mL (in the presence of 6 ng/mL HZ-1168) |
| FGF-4 | Mouse Monoclonal | 0.1 -0.4ug/mL (in the presence of 2ng/mL HZ-1218) |
| FGFBasic-TS | Mouse Monoclonal | 1-10 μg/mL ( in the presence of 0.1 ng/mL HZ-1285) |
| PDGF-BB | Mouse Monoclonal | 20-50 ug/mL (in the presence of 20 ng/mL HZ-1308) |
| Thrombin Coagulation Factor II | Mouse Monoclonal | 5-20 ug/mL (in the presence of 400 ng/mL HZ-3010) |
| VEGF165 | Mouse Monoclonal | 200-600 ng/mL ( in the presence of 10 ng/mL HZ-1038) |