An alternative Nanobody format that combines its special epitope binding properties with the detection options for Fc-domains
A new Swiss army knife for immunofluorescence: Chimeric heavy chain antibodies
What are heavy chain antibodies?
The immune repertoire of camelids like alpacas comprises three IgG antibody subclasses: IgG1, IgG2, and IgG3. Whereas IgG1 is a regular conventional IgG, i.e. composed of two heavy chains and two light chains, the subclasses IgG2 and IgG3 are heavy chain antibodies (HCAbs). These heavy chain-only IgG antibodies differ from conventional IgGs by their hinge regions and by the absence of both the CH1 domains and light chains.
The binding domain of a heavy chain only IgG is also known as VHH or Nanobody, which has special binding properties as they tend to bind only to 3-dimensional, i.e. functional active targets with high affinity.
Why using Nanobody Fc-fusion antibodies?
Now, ChromoTek offers via  Proteintech  recombinant antibodies, which consist of Nanobodies as antigen binding domains with the Fc-domains of a conventional IgG antibody, or with other words chimeric heavy-chain antibodies of Alpaca VHHs with Fc domains of both rabbit IgG and mouse IgG1.
Product highlights and benefits:
Unique epitopes that traditional antibodies do not recognize
Popular nanobodies cited in over 2000 papers are fused to rabbit IgG or mouse IgG1 Fc-domains
Bivalent structure results in higher avidity and better signal amplification than Nanobodies
Detection by a broad range of secondary antibodies including  Nano-Secondaries
Unlimited supply, high lot-to-lot consistency
Recombinant expression
Like other recombinant antibodies, VHH/Fc-fusions are available with high lot-to-lot consistency at an unlimited supply. The Nanobody Fc-fusion recombinant antibodies have been developed in collaboration with Absolute Antibody Ltd.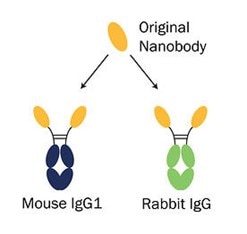 The Fc-domain fusion format combines the advantages of Nanobodies with those of traditional antibodies: The VHH/Fc fusions (i) are bivalent so they have even higher avidities and affinities than the parent Nanobodies, (ii) bind unique, 3-dimensinal conformations of epitopes not recognized by traditional antibodies, and (iii) can be detected and captured using tools from the broad range of antibody reagents like secondary antibodies and  Nano-Secondaries.
What Nanobody Fc-domain fusion recombinant antibodies are available?
Proteintech and ChromoTek offer Nanobodies fused to two different Fc-domains - rabbit IgG and mouse IgG1 – for flexibility in your experiments. The popular ChromoTek Nanobodies anti-GFP-, anti-mNeonGreen, anti-TurboGFP-, and anti-Vimentin-VHHs are all available in chimeric rabbit IgG and mouse IgG1 form.  Get them here.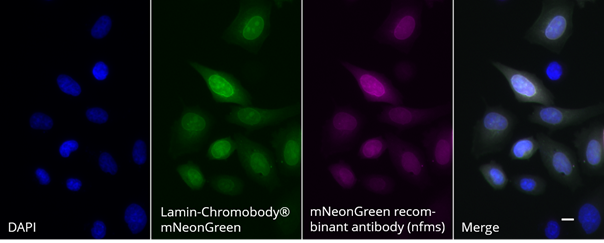 HeLa cells transiently expressing Lamin-Chromobody®-mNeonGreen were immunostained with mNeonGreen recombinant antibody, VHH-mouse IgG1 Fc fusion [CTK0203] (nfms-20, 1:500) and Nano-Secondary® alpaca anti-mouse IgG1, recombinant VHH, Alexa Fluor® 647 [CTK0103, CTK0104] (sms1AF647-1, 1:500). Scale bar, 10 μm.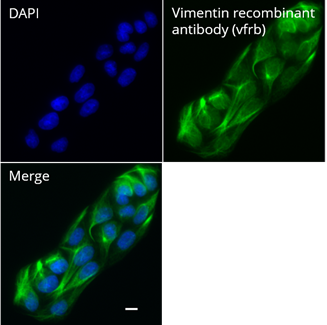 MDCK cells were immunostained with Vimentin recombinant antibody, VHH-rabbit IgG Fc fusion [CTK0211] (vfrb, 1:1,000) and Nano-Secondary® alpaca anti-human IgG/anti-rabbit IgG, recombinant VHH, Alexa Fluor® 647 [CTK0101, CTK0102] (srbAF647-1, 1:1,000). Scale bar, 10 μm.