See the advantages of ChromoTek's RFP-Trap in ChIP applications as demonstrated by  Dr. Caroline Rivers, Laboratory for Integrative Neuroscience & Endocrinology, University of Bristol. In absence of suitable antibodies for an inducible hormone receptor, mCherry has been fused to the N-terminus of the receptor. In order to effectively pull down the mCherry fusion protein DNA complex, ChromoTek's RFP-Trap was used.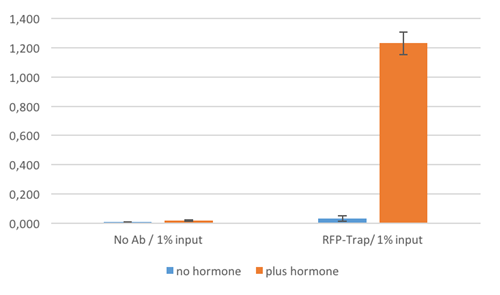 The DNA binding of mCherry-tagged hormone receptor was investigated by ChIP analysis dependent on the presence of hormones.  Binding events are  portrayed  relative to controls.
It has been shown that the RFP-Trap can be used for ChIP analysis in order to detect enrichment of mCherry-tagged proteins at DNA binding sites.
ChromoTek's RFP-Traps are derived from sequenced, recombinant and monoclonal camelid heavy chain antibodies, VHHs or so-called "nanobodies". They enable robust immunoprecipitations and provide reproducible results.
Find out for yourself and test the RFP-Trap. Request your free RFP-Trap sample here: