Multiple kits for streamlined affinity purification mass spectrometry (AP-MS)
Affinity tags are valuable tools for immunoprecipitation (IP). Fused to the protein of interest, they enable proteome-wide identification of interaction partners by mass spectrometry.
Preparation of AP-MS samples typically employs multiple sample preparation steps that can lead to sample contamination and loss. With the introduction of the iST GFP-Trap in 2018, ChromoTek and PreOmics have set the standard for streamlined processing of GFP-fusion proteins and their interaction partners by combining the Nanobody based GFP-Trap with the iST technology.
ChromoTek now launches five additional iST kits, enabling streamlined Co-IP and MS sample preparation for Myc- and Spot-tagged proteins and for mNeonGreen, TurboGFP, and RFP/mCherry-tagged proteins.
With the advent of the new iST kits, preparation of Co-IP samples for mass spectrometry-based proteomics is essentially simplified:
intuitive handling for biologists to manage both (i) Co-IP and (ii) MS sample preparation part in just 2 hours hands-on time
outstanding immunoprecipitation for fast and reliable results with low background
superior processing of IP samples for reproducible identification of tag-fusion proteins and their interactomes
obtain peptide mixtures ready for MS analysis / direct handover to MS Core Facilities
patented peptide washing eliminates contaminations and reduces MS downtime
The iST Nano-Trap kits offer a unique co-IP performance, significant time advantages, superior transfer of both (i) co-immunoprecipitated proteins into iST cartridges and (ii) peptides to MS for versatile preparation of AP-MS samples.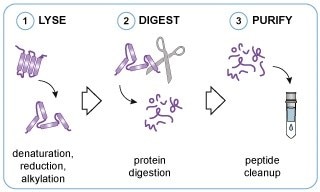 Sample preparation for Mass spectrometry
The kits have been codeveloped by ChromoTek, the experts in immunoprecipitation, and PreOmics, the experts in sample preparation for MS. PreOmics' iST products are used by MS labs and MS core facilities worldwide.
The iST Nano-Trap Kits comprise next to the Nano-Trap all chemicals, enzymes, cartridges and plastic ware required for immunoprecipitation of GFP-fusion proteins and the subsequent denaturation, reduction, and alkylation of co-immunoprecipitated proteins plus in-solution protein digestion and peptide clean-up.
The PreOmics in-stage tip (iST) technology has been developed by the Matthias Mann Lab and published in Nature Methods (Kulak et al., 2014): "Minimal, encapsulated proteomic-sample processing applied to copy-number estimation in eukaryotic cells" (doi:10.1038/nmeth.2834).
List of available iST kits