Navigating a PhD in a Pandemic
Tips and advice for navigating a PhD during a global pandemic, written by guest blogger Francesca Lewns.
---
Written by Francesca Lewns, PhD student at the University of Birmingham, UK. Follow @afrankphd on Instagram.
A PhD is always meant to be hard. However, when you throw a pandemic into the mix, the marathon that is a PhD becomes an obstacle race, run with your feet tied together, blindfolded. 
For PhD students, the pandemic has introduced a whole new set of emotional, technological, and logistical demands, with their already existing worries being exacerbated. Pre-COVID, it was highlighted that 46% of PhD students had mental health concerns. Now, the pandemic has brought about even more isolating conditions, financial hardships, and a lack of work-life balance.
Nearly a year since the World Health Organization declared the outbreak of COVID-19 a pandemic, what can you do to help yourself navigate this unchartered territory and figure out what works best for you? Here are a few areas that I recommend thinking about, some tips and tricks that have personally helped me while doing my PhD in a pandemic.
It's important to remember that you are not alone and there is a community of PhD students that are all in this together.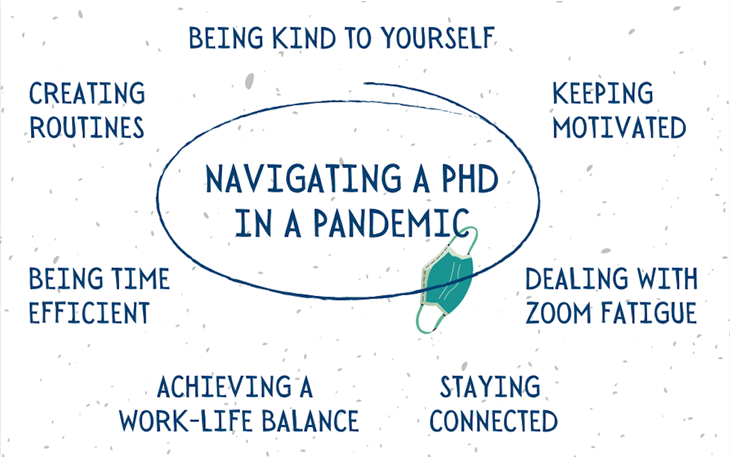 Creating routines
With a lot of people now working from home, you may have found yourself with the opportunity to get up late or lounge around – try to avoid this. Hold yourself accountable and stick to a structure within your day, with specific working hours. Whether you are an early bird or a night owl, choose a routine that works for you – and if it's not working, adjust it! Change out of your pyjamas, whether it's into something more formal or just another pair of pyjamas, it will signify the start of your day.
Revel in the increased flexibility that you now have with your working hours, that those in other professions may not necessarily have. I'm personally more productive in the morning and so if I'm WFH I aim to start at 7 am, so that I can finish earlier, leaving me time after work to do the things I require to avoid burnout. This may not work for a lot of people but think of it as taking a personalized approach and working out what is best for you.
Being time efficient
A common issue now within labs is space, and because of social distancing, labs are operating at a massively reduced capacity. It's likely that this will be the case for a while, so make sure that you plan in advance for that precious time in the lab! Do as much as you can beforehand, because this will allow you to use your time efficiently and effectively when you arrive.
On the other hand, reduced access to labs might mean you have found yourself with a bit of extra time, twiddling your thumbs. If you feel mentally up to it, see this free time as a great opportunity to build on your foundation of existing knowledge or to gain new skills. Firstly, this is a great chance to read extra reviews and papers within your subject field. This will benefit you hugely in the future when it comes to writing your own research articles or reviews, as you will have improved knowledge of the area but also an understanding of how to format a paper. It could even lead to inspiration for future experiments and take you down an exciting avenue with your work.
Secondly, you could start writing parts of your thesis, even if you're early on in your PhD, just take the plunge! Start by writing down methods, or parts of your introduction, or even creating diagrams and figures. This will pay huge dividends when it comes to your full write-up period, as it will feel as though you are ahead of the game – your future self will thank you!
Staying connected
PhDs can be isolating due to the independent nature of the work, and with times being what they are, this could now be even more of a problem for some. This is why it's important to connect with people, to reach out to people you already know but also those you are looking to create new relationships with. To help you maintain and create strong social bonds, network with people! Networking is more important than ever during this time of social distancing. Whether they are researching similar topics, a fellow PhD student, or wanting to pursue the same career – reach out to them. Utilize social media and the fact it acts as a connection across geographic divides by using platforms such as LinkedIn, Twitter, ResearchGate, and Instagram. These are all online platforms where open discussions can be held about work and where you will find like-minded people.  
Attend virtual conferences if you are presented with the opportunity. You now have the ability to attend a conference that is anywhere in the world; this paves the way for a larger, more diverse audience. Networking at these events will mean you meet other people, potentially experts, within your field – you never know where their contact might be useful in the future. Virtual conferences also present a great opportunity to stay up to date with advances in your subject field. 
Achieving a work-life balance
Recently, we've all found ourselves asking, "what day of the week is it again?" Weekdays and weekends merge into one, and it's becoming harder and harder to distinguish a boundary between your professional and personal life when working from home. It's difficult to disconnect when you no longer have the ability to leave your office behind. We're no longer working from home; we're living at work. This is why I make sure to have a dedicated workspace, and when I'm done at the end of the day, I tidy away everything that I associate with work – my laptop, any stationery, books etc. This will help you compartmentalize and separate your working hours away from your downtime. Everyone needs their time to switch off. It's all about achieving a balance and knowing what your mental wellbeing requires to avoid burning out.
I have made 'a walk a day', a non-negotiable – our bodies are meant to move! You shouldn't feel guilty for moving away from your desk, because you don't need permission from anyone to protect your own health and wellbeing. If I am working from home, I find the time to get outside because I know that I will always feel better for it. Healthy eating, physical activity, and sleep hygiene are the wellness trifecta that all correlate significantly with mental health. If you're making time for these and taking care of your body, this will provide a solid foundation on which to build your emotional health. 
Keeping motivated
No doubt that motivation will come in ebbs and flows throughout your PhD, but you might be lacking it more than ever right now and struggling to see the point anymore. To try and stay motivated, I like to make to-do lists that contain even the smallest of jobs such as writing an email. This isn't just to help me know what I need to achieve in a day, but it's to realize what I have achieved afterwards. When I'm having a moment of self-doubt, thinking that I haven't achieved anything lately, looking back on these reminds me that half the time I've just forgotten what I've done. A recent seminar I attended suggested creating a to-do list with two columns, one column containing the harder jobs that you know you'll find more difficult, and one containing the easier ones. While your motivation and productivity are high, tackle the harder jobs and save the easier ones for when you are having a dip.
Dealing with Zoom fatigue
 Zoom, a word that over a year ago meant 'to move quickly', which now, ironically, has us doing the exact opposite. Chained to our screens, tired, burnt-out and drained of energy, 'Zoom fatigue' is a new phenomenon that is wiping out millions of people who are video-calling every day. Although, on the bright side, at least we can leave our pajama bottoms on.  
We might have thought we spent a lot of time staring at screens pre-COVID, but little did we know. So, why do we find video calls so draining compared to in-person meetings? A couple of reasons. Firstly, you're having to work harder to pick up on social and non-verbal cues, such as tone, body language, and facial expression. Additionally, being constantly aware that you are on camera, being watched, can be stressful and cause you to put in extra effort to seem engaged. Video meetings mean you have to focus more closely on what is being said, as you are only relying on yourself to catch all the information – whereas in person you might have someone that could fill you in if you miss something.
Ask yourself – does it really need to be a video call? Is it possible to do it by phone instead? To reduce your screen time, aim to avoid back-to-back calls as this will allow for transition periods between meetings, giving you time to walk, stretch, or grab a drink. If your meetings are completely necessary, can you lessen screen time elsewhere? Take tech-free breaks at lunchtime or try and opt for physical over digital if you have the choice, such as reading physical papers instead of online.  
Being kind to yourself
All of this being said, remember your physical, mental, and emotional health is far more important than anything else. Be kind to yourself and to others, and do not judge how you are coping based on how you see others coping. It's important to be realistic about what is achievable in these circumstances. Stay connected, reach out for support if you need it, check in on others, and make time for the things that make you happy.
Although navigating a PhD in a pandemic is daunting, ultimately, the greatest lesson that COVID-19 can teach PhD students is that we are all in this together.  
---
References
UC Berkeley Graduate Assembly, Graduate Student Happiness & Well-Being Report (2014)
https://www.nytimes.com/2016/12/28/well/move/work-walk-5-minutes-work.html
https://www.realsimple.com/health/mind-mood/sleep-exercise-diet-mental-health-study
https://hbr.org/2020/05/5-tips-to-reduce-screen-time-while-youre-wfh
https://www.forbes.com/sites/melodywilding/2020/03/25/how-to-work-from-home-without-burning-out-or-losing-work-life-balance/?sh=4c90754577a3
---
Written by Francesca Lewns, PhD student at the University of Birmingham, UK. Follow @afrankphd on Instagram.