Event Speaker: Proteintech CEO Dr. Jason Li
The event
September 15-16, 2016.  University of Bath, UK
The meeting brought together scientists from academia, the pharmaceutical / biotech sector, and antibody suppliers to discuss best practices in research antibody validation and help improve antibody validation for the life science community.
The meeting was organised by the University of Bath as part of it's 50th anniversary celebrations, and supported by AstraZeneca and CiteAb.  For more information visit the meeting homepage.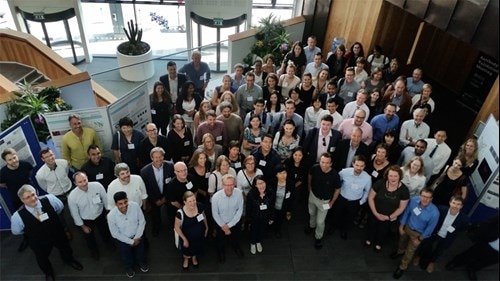 Photo credit: CiteAb (twitter.com/CiteAb)
Proteintech CEO, Dr Jason Li presented a talk at the meeting highlighting the importance of transparency in the  validation of antibodies for research. Dr Li spoke about how increasing transparency in the antibody market can help remove manufacturers that cut corners and promote high-quality products that lead to reproducible results.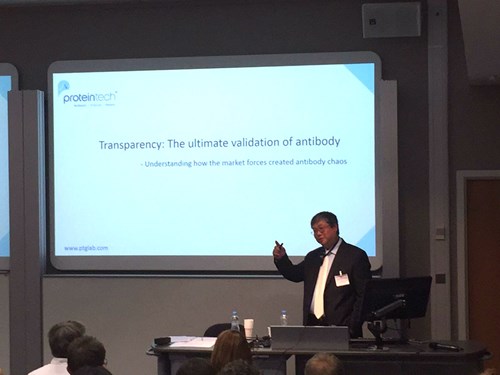 Dr Jason Li presenting at the International Antibody Validation meeting. September, 15 2016
Only 50 percent of the antibodies produced commercially for biomedical research actually do what they're supposed to. Read the full article...
Article by Dr Jason Li,  September 15, 2016
Proteintech's antibody validation programme
"As a scientist, you're not supposed to make decisions without the data."
- Francis Sellers Collins, American physician-geneticist and Director of the  National Institutes of Health.
Proteintech takes complete responsibility for every product they manufacture and ensure that it will work in your hands with an extensive validation process. Every antibody is extensively validated by an in-house team of scientists using unmodified samples and endogenous levels of proteins.
With the increasing need for antibodies with high specificity and reproducibility, Proteintech introduced siRNA knockdown validation, one of the most trusted and accepted forms of antibody validation. Look out for the siRNA Knockdown symbol across the Proteintech catalog. 

Read more about Proteintech's siRNA validation programme  
here.
Open access data
The scientific community thrives when data is shared freely. Without data sharing, experiments cannot be peer-reviewed, and scientists cannot validate existing findings by repeating or improving experiments.
At Proteintech we believe data sharing does not just fall within the sphere of the research community – we know our validation data can contribute something to science too. Therefore, we have an open access data policy to assist you with your initial antibody purchase and to facilitate your experimental design. All of Proteintech's validation results are accessible on its website, and the scientist responsible for those data can be reached via Proteintech's technical help channels at any time.