'Best Lab Manager Award 2016'
Winner Announcement!
After tallying the votes, Proteintech is proud to announce the winner of the "Best Lab Manager 2016".

Congratulations to Mary Skinner of the University of Michigan. 

Mary will receive a care package and $1000 for use in her research.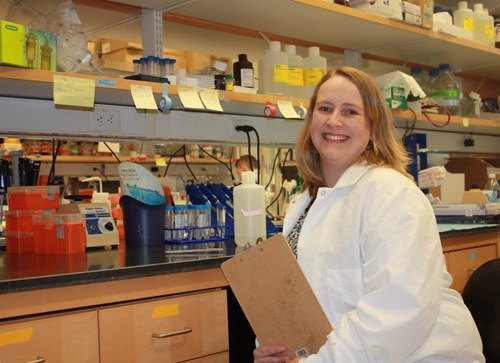 (Photograph by  Daniel Ellman/UMHS)

Proteintech thanks everyone for their nominations and participation in the voting campaign. Proteintech offers several awards and travel grants throughout the year, so keep checking back for more exciting contests. 
---
 Finalists
Heather Romine
UNC at Pembroke
"Heather Romine is the first to volunteer to stay late or to come in on weekends when research animals require unexpected experimental steps or when a student's experiment extends into the night or weekend. Her keen eyes see when a student needs extra training on difficult techniques, including measurements of pathogenic and synaptic markers, cell culture methods, brain dissection, tissue histology, and behavioral paradigms. Besides maintaining the lab, ordering supplies, and managing solution production, Heather goes beyond the standard duties in order to provide the kind of exceptional service that students appreciate, seeing that they are able to develop into independent researchers and can follow meticulous protocols with Heather's added training for the important projects related to Alzheimer's disease. Her efforts helped our students to be recognized with NIH RISE Fellowships, NC Space Grant Research Scholar Awards, and PURC Fellowships. Heather also assisted with the mentoring of a high school student as part of the U.S. Army REAP program. In my absence, she did a great job presenting the Bahr Lab data at the 15th Annual Neuroscience Symposium at ECU. She also attended the Jackson Laboratory Seminar at University of North Carolina, Chapel Hill to improve our ability to house specialized mice for Alzheimer's disease research. At the beginning of the year, Heather attended the 9th Annual Lumberton Caregiver Education Conference in to set up a UNCP information table. Recently, Heather presented an hour seminar for the Rotary Club meetings, in one case having a crowd of 400.
- Ben Bahr,  UNC Pembroke
Jerry Stewart
University of Alabama at Birmingham
"Jerry is the best. He does all of the work that no one else wants to do and makes sure that the lab runs smoothly. He is a true Southern gentleman and at the ripe old age of 50 has come into his element in negotiating the best deals for the lab so that we can continue to fight pediatric cancer. He stands by his research and knows everyone on campus, so even if we don't know how to do something, he knows someone who does. He also keeps Reese's cups in a nearby drawer to stave off the hanger (hunger + anger), which makes a world of difference. We want to keep him forever."
-  Laura Stafman, University of Alabama at Birmingham
Martha Reed
Brandeis University
"What can I say? As PI of a relatively large and diverse lab I would be TOAST without Martha. She keeps the lab in pipet tips and enzymes, but she does much, much more than that. Martha takes care of people. She is the one who keeps track of our army of undergrads: hiring the ones who do support work and taking care of the ones who are doing research. When she noticed that one of them who had been in the lab for a while was not getting paid, she advocated for the kid. Martha is also social glue for the lab. She makes sure birthdays, babies and graduations are celebrated in style. The sense of community she fosters make my lab a pretty awesome place to be. On top of all this, Martha is a serious scientist who has her own projects and who is engaged in the scientific life of the both the lab and University. As a lab head, I know how lucky I am to have someone like Martha as my lab manager. This is a position that can define the atmosphere in a lab and it is also a position that gives continuity to a lab. Students come and go, but if you are lucky a person like Martha comes and stays."
- Leslie Griffith, Brandeis University
Mary Skinner
University of Michigan
"Mary is the lab manager of the Lombard Lab in the Department of Pathology at the University of Michigan. She is an outstanding lab manager. I have been a graduate student in the lab for 3 years, while Mary has worked in the lab for approximately 5. She certainly goes beyond her required duties; whether it's organizing the lab freezers or organizing the mouse colony for 8hrs on a Saturday afternoon, Mary seems to be on call 24/7. She is a single parent to a pre-teen, yet the lab is always well-stocked and in OSEH compliance (including conforming to special strict NRC and BSL2+ requirements), despite having to leave at a certain time everyday – a feat unheard of in the research lab. She is also a terrific and selfless lab citizen. She will voluntarily settle to use the old "broken" pipettes because someone else in the lab wants a nicer set and can't wait for another to come in. She is also charged with training undergraduates who assist with the genotyping for around a dozen or so mouse strains. Mary never complains about the typical whining and complaining of grad students and post-docs, rather she acts as arbitrator to try to come to a compromise that will allow everyone to do their research to the best of their ability. She is always open to suggestions on improving the lab, highlighting her flexibility as a manager. Mary also must juggle 5-10 different grants/money sources our PI uses to keep the lab running. Aside from ordering everything for the lab, she is primarily responsible for ensuring all monies are spent according to their respective restrictions – a herculean administrative task she often completes at home. My goal is to have my own research lab with a lab manager as capable and efficient as Mary."
-  William Giblin, University of Michigan
Denise Hegan
Yale University
"Denise has been the lab manager for the Glazer Lab for over 15 years. She has been a friend and mentor to numerous students, postdocs and research associates during this time. She always ensures that the lab is running smoothly, whether it's through ordering supplies, managing animal protocols or keeping licensing up to date. On top of that, she conducts her own experiments, and as a result, has 11 peer reviewed publications. Denise is an amazing individual who truly deserves this award. We could never thank her enough for all of her support and kindness."
-  Raman Bahal, Yale University
---

The Award
The lab can be a chaotic place. Great lab managers keep the chaos at bay and make sure that science is as efficient as possible in the lab. They are renaissance men and women in charge of budgeting, handling copious administrative responsibilities, writing grants, training new lab members, and on top of all that, making vital contributions to research.
This award recognizes those lab managers who go above and beyond the call of duty. Proteintech is offering a $1000 award and a care package (commemorative mug and $100 Visa gift card) for the most outstanding lab manager.
The Nomination Process
October, 17 - November, 17
Eligibility
Nominees must be based in a research laboratory in a university or research institution.
Who can nominate?
Researchers are invited to nominate a lab manager who has gone above and beyond to support their development in the lab.
Researchers nominating their lab managers are to submit the short nomination form including a 250- word summary explaining why they feel their nominee deserves the award.
The Voting process
November, 28 - December, 12
Five outstanding candidates will be selected by the Proteintech judging panel. The winner will be the candidate who receives the most public votes.
December 19 - Winner Announcement
---
Terms and conditions 
Only nominators from Universities and Research Institutions are eligible to take part in this competition.

Nominees must be based in a University Institution or research lab in the US or Europe.

All Winners agree to the use of their names and likenesses in publicity without notice or any additional compensation, except where prohibited by law. By entering this contest, the winners acknowledge that Proteintech has the right to publicize and broadcast their name, voice, and likeness, the fact that they won, and all matters incidental thereto. These activities may include the following: An interview, featuring on Proteintech blog/website, and associated press releases.

The deadline for entries to be submitted is November 17, 2016. Any applications submitted after this date will not be eligible.

Nominators can only enter one nominee. Any further entries will not be eligible. Nominators must complete the application form in full.

The winner will be decided by a public voting process once Proteintech Group has shortlisted the entries. The shortlist of nominees will be made at Proteintech Group's discretion.

The $1000 award (or local currency equivalent) will be paid to the University laboratory or Research Institution to support the research of the awardee.

Prize will not be awarded to employees of for-profit organizations (i.e. biotech or pharmacological companies).

The recipient will be contacted by email by December 13, 2016 and announced online on December 19.

By submitting this application, you agree to receive information from Proteintech. Your information will never be sold or used by a third party.

Proteintech has the right to terminate this award at any time during the process.

During voting process, each participant may only vote once per day.