Winners announced!
---
Congratulations to our 2020 winners and thank you to everyone who entered.
Joana Mateus
Instituto de Medicina Molecular - João Lobo Antunes (iMM-JLA) - Portugal
'I am really excited to attend FENS Forum 2020 next July. This award means that I can show and discuss my research in an international conference, with researchers working in distinct fields related to neuroscience, that provide valuable and original input for me to continue my work''.
Joana is working with an animal Model of Multiple Sclerosis. She is focusing on how we can potentiate the formation of new oligodendrocytes, the myelinating cells of our Central Nervous System, under these pathological conditions.
Alinda Fernandes    
King's College London - UK
'I am delighted to have received this award from Proteintech for attendance to my first FENS forum meeting. The programme looks very interesting and I am looking forward to the meeting and establishing new collaborations with PIs and young scientists like myself across Europe!'
Dr Alinda Fernandes is working on a novel intracellular antibody as a therapeutic strategy for Frontotemporal Dementia and Amyotrophic Lateral Sclerosis. This antibody will target the pathological version of the protein TDP-43, which causes motor neuron degeneration.
Ping Zheng           
University Hospital Münster - Germany
"With the Proteintech FENS 2020 Travel Grant, it would be great for me to participate in the 2020 Forum of European Neuroscience since I become a FENS member last year, which is enough to cover my flight fare and accommodation in Glasgow. I am looking forward to presenting our recent work and sharing the passion for Neuroscience''.
Dr. Zheng is currently working as a biologist in translational radiologic imaging center (TRIC, UKM, Muenster, Germany) on neuron-glia interaction. In particular, they are characterizing neurotransmitter alterations based on molecular imaging including in-vivo electrophysiology, optogenetic fMRI, MRS, fluorescence based imaging and developing cell-based strategies to promote neurological outcome.
Lídia Cantacorps              
Pompeu Fabra University - Spain
"Attending to the FENS Forum of Neuroscience is a unique opportunity to share and discuss my research with other neuroscientists, to explore the recent findings in the neuroscience research field and discover new career opportunities."
Lídia is studying the long-term neurobehavioural consequences of maternal binge-like alcohol consumption during the prenatal and lactation stage in offspring's brain and behaviour to identify the underlying neurobiological mechanisms in a mouse model. Furthermore, she investigates the putative therapeutic effects of curcumin to counteract the alcohol-induced molecular and behavioural alterations. 
FENS / Proteintech Travel Grant 2020
In association with the Federation of European Neuroscience Societies (FENS), Proteintech is proud to support researchers by offering 4 x €/£500 travel grants to attend the 2020 FENS Forum meeting in Glasgow, UK.
Open to researchers in the UK and all of Europe. 
Entry Deadline:  31st January 2020

The travel award is open to PhD students, lab managers and post-docs based at European university or research institutions and awards €/£500 to four attendees to assist with the cost of registration, accommodation and travel to Glasgow, UK.
The four most interesting and innovative abstracts will be selected by a panel of scientists for the prize award.
The deadline for entries is 31st January 2020 and the winner will be announced on the 24th February 2020.
Terms and conditions apply.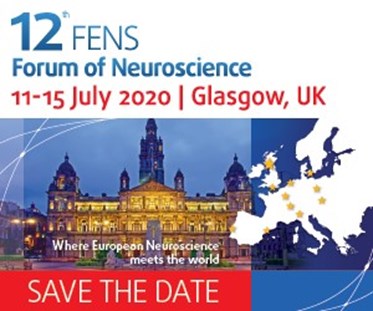 ---
2018 FENS Travel Grant Winners
Congratulations to the 4 winners of the 2018 FENS travel grant:
Monique Marylin, University of Portsmouth
Raquel Real, Imperial College London
Stefano Espinoza, Istituto Italiano di Tecnologia
Irene Busti, University of Florence
All our winners have been awarded €500 each to attend the 2018 FENS Forum meeting in Berlin.
Find out more about the winners below!
Thank you to all who entered the competition. Check back for more competitions and travel grants on our company news section and social media pages.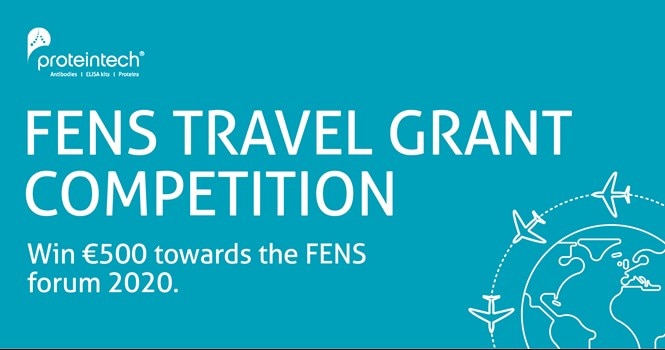 Only applicants from Universities and Research Institutions based in Europe are eligible to apply.

This award will cover only the cost of registration, accommodation, and transport to the FENS 2020 meeting, to the total value of €/£500. Any remaining balance available after these costs have been covered is not transferable and cannot be used for other expenses.

By taking part in the competition, you agree to take part in any marketing and PR activities that Proteintech deem necessary. These may include the following: An interview, featuring on Proteintech blog/website, and  associated press releases.

The deadline for entries to be submitted is 31st January 2020. Any applications submitted after this date will not be eligible.

Applicants can only submit one entry. Any further entries will not be eligible. Applicants must complete the application form in full.

The applicant must be available to attend the FENS 2020 meeting in Glasgow. The travel grant applies only to the FENS 2020 meeting. The reimbursement cannot be used for any other meeting.

The winning applicants will receive this travel grant via reimbursement from Proteintech Group.

The recipient must provide receipts for their FENS registration, accommodation, and travel to receive reimbursement.   

The recipient will receive reimbursement within 7 days of proof of expense being obtained.

The reimbursement can only be paid to the individual or institution that originally paid for the travel expenses, registration and accommodation.

The winners will be decided by the Proteintech scientific writing team and an assisting group of scientific peers. The winning entries will be the abstract deemed most interesting by the panel.

The decision on which applicants win is at the discretion of Proteintech Group and their decision is final.