Congratulations to Chung Yiu Jonathan Tang Ph.D, and Hyejin Park Ph.D
Written by Chempetitive Group for Proteintech Group
CHICAGO—October 17, 2016— Proteintech, the benchmark in antibodies, in partnership with Cell Press, today announced the winners of the 2016 SfN Travel Grant awards. Chung Yiu Jonathan Tang, Ph.D., and Hyejin Park, Ph.D., have each been awarded $1,000 to use towards travel expenses to attend the 2016 Society for Neuroscience annual meeting, being held November 12-16 in San Diego, Calif.
The brain is a dense network of hundreds, if not thousands, of different types of cells. Little is known about many of these cell types because methods to study them must be developed one cell type at a time. Tang and his team at Harvard are developing molecular tools that can be applied to target specific cell types based on their intracellular protein expression, which could accelerate our understanding of complex neural interactions. Tang's tools are modified nanobodies – Camelid antibody fragments that are easily expressed inside of cells – which target intracellular proteins unique to a specific cell type.
"We can target the cells that express these proteins, so we can visualize the cells that express the proteins," said Tang, now a postdoctoral fellow at Columbia University. More importantly, "we can manipulate marked cells." Tang will present   his research and findings on Wednesday, November 16 at 8:30 a.m. at SDCC 4.
Park's winning research is focused on Parkinson's disease, which causes progressive loss of muscle control due to the loss of dopaminergic neurons. Park and her team have discovered that they can dramatically slow this process in mouse models by silencing a gene for the enzyme called PAN nuclease. Park believes that a new class of PAN-inhibiting drugs might provide new treatments for the disease which affects more than 10 million people worldwide. The team has identified two PAN-inhibiting compounds that they will be studying further as potential drug candidates.
"Parkinson's disease is the second most common neurodegenerative disease, but there is no known mechanism," said Park of Johns Hopkins University. Park will be presenting her poster   (413.20/S5) on Monday, November 14 at 4 p.m. in Halls B-H. "Targeting the PAN nuclease may provide an important therapeutic opportunity in Parkinson's disease," said Park.
"These two scientists have produced impressive research," said Jason Li, CEO of Proteintech. "Their achievements will surely be recognized by their peers, too, and we hope this award advances their careers and their science."
The winners will also receive free registration to the Cell Symposia: Big Questions in Neuroscience, held November 10-11, also in San Diego.
---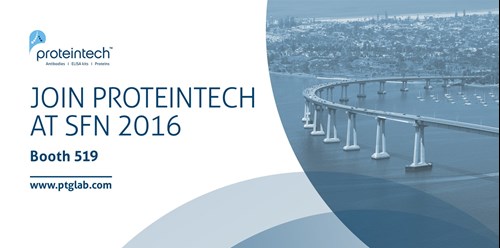 ---
For more Proteintech competitions, awards and events visit the company news page.