National Mentoring Month
Celebrate a mentor from January 24th-28th by sending them a free gift on us
Happy National Mentoring Month! Show your appreciation to an outstanding mentor by sending them a Mentor Mug on us! Simply fill out the form below, add an optional message to send along with your gift.
Send your mentor a gift below: Please note: Mugs are only available in the United States
---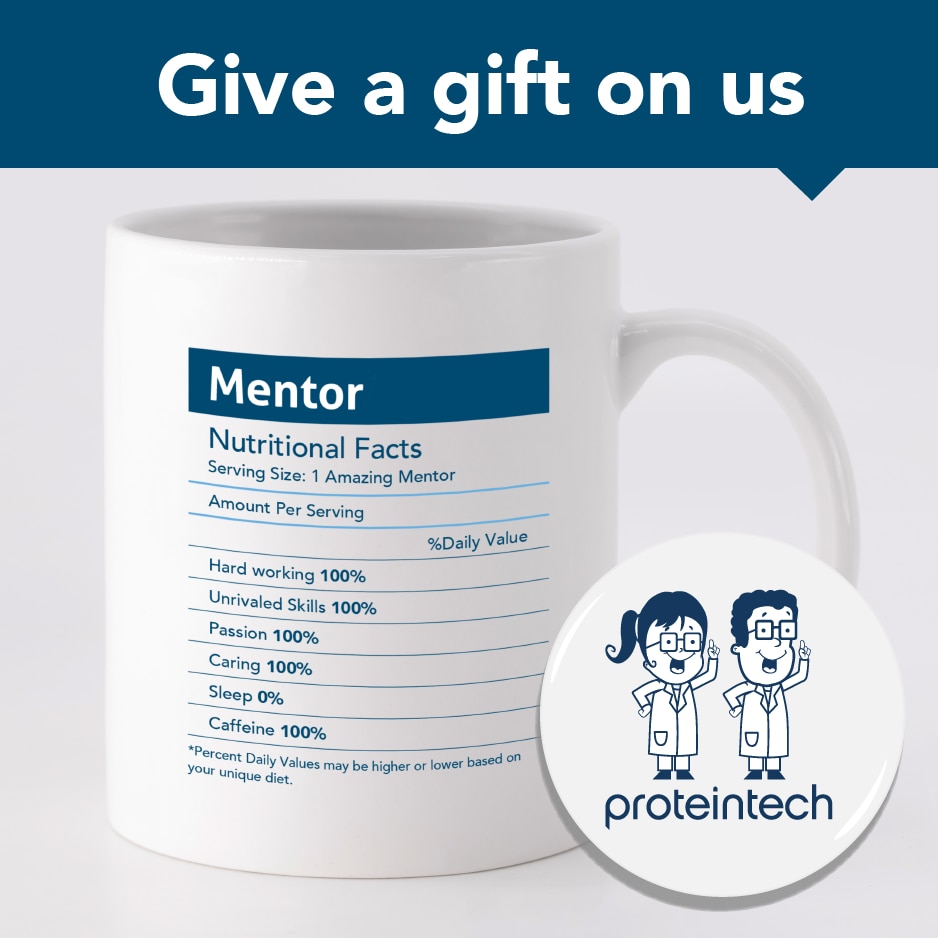 Mentor Tips
We are surrounded by critical role models in science who help  mentor and support the development of researchers. Here are a few words our very own postdoc mentor award winners and webinar speakers have to share to early career researchers!
Keynote Speaker for Neurodegeneration Early Career Researcher Meeting 2021 

'Glia and mentors: all that matters is support' 

NYU Langone, United States

"Find your passion and help others find theirs: everyone has an interest and an aptitude—they are happier and more productive when they find this.

Meet a patient: if you're working on disease, make sure you understand the needs of patients.

Humanize the experience: support the people who work with you. Life happens, support each other when it does.

Treat people equally: Speak out, take action.

Choose wisely: Good mentorship is not only pivotal for career success, but it is pivotal for driving innovation and for the health of our universities.

Teach, don't torture:  'Why should we honor those who don't support science's next generation?

You don't have to be in charge of a University to make a difference: active dialogue makes others comfortable to speak out, and gives voice to  those that cannot--normalization is key. Get involved--organize meetings, seminar series. Invite DIVERSE speakers, engage with  visiting scholars. 

See here for full video of Neurodegeneration Early Career Researcher Meeting 2021

2020 Best Postdoc Mentor Award Winner: Tejeshwar Rao

University of Alabama at Birmingham, United States

"The one mentor tip I would like to share with my fellow researchers and scientist is 'To progress in science you need to believe in yourself and speak with conviction. The only limitations are those you set upon yourself.'"

2019 Best Postdoc Mentor Award Winner: Isha Sharma

Northwestern University, United States

"I believe as an individual we have inherent tendency to be accepted and on the top, i.e. we all love to be leaders or mentors. In today changing time definition of mentorship has changed considerably , certainly it's not all about taking credits for projects or how many people you are training. I believe it is more about connection, the more deeply you connect with your mentees on emotional and psychological level. Trust me, if you develop this one important trait it is going to take you further in your career. In addition, for me building personal relationship with my seniors, colleagues and subordinate is far important than progressing professionally. When you work as team, if you understand or show compassion for your team members. Projects are not only accomplished, but team members exhibit exuberance and they are constantly motivated to work towards betterment of an organization."

2016 Best Postdoc Mentor Award Winner: Joshua Morgan

University of Delaware, United States

"Patience - Many times mentors are working with mentees that are still learning...after all, that's why they seek out mentors! Keeping in mind the learning is a process, show patience when mentees make mistakes and help them learn from those mistakes. Don't get frustrated with your mentees...keep in mind the errors you may have made long ago! One of the biggest benefits a mentor can offer is a longer, more experienced perspective on challenges and roadblocks that may seem overwhelming at the moment. The best way to provide that perspective is by demonstrating patience and calm.

Mentoring team - One of the best things you can do for yourself and for your mentee is to encourage them to identify a mentoring team. Having access to different perspectives is valuable, and in addition, it means they have more than one person to turn to when things get rough.

Be self-critical and continue to improve - Every mentoring relationship is different, and it helps to keep asking yourself if you are using the best strategy for each particular mentee. Keep a dialog going about what has been helpful and not helpful. Don't be afraid to try new strategies, keep using what works and put aside what doesn't.

Be realistic - Being honest with yourself, and your mentees, about your limits is more important than being their one-stop shop whenever they need something. You can't help anybody if you are stretched too thin.

Be able to give hard advice - Sometimes mentees just want approval for something they've already decided. Of course, mentees will make their own decisions, but you should never feel pressured to agree with what you view as a poor choice. Remember, they came to you for your mentorship, and part of that is telling them what they don't want to hear."
---
Terms & Conditions
This promotion is limited to the US.
Limit 1 mug per mentor.
Quantity is limited.
Pin is 1" in diameter. Mug holds up to 11oz.
Please allow up to 4 weeks for delivery. 
No purchase necessary. 
Proteintech reserves the right to cancel or refuse this promotion at any time.