How fellowships can advance your scientific career
Thoughts and advice to anyone thinking of applying for fellowships worldwide
Having  a broad view of scientific research, demonstrating the ability to interact with people from different backgrounds, and being enthusiastic and open-minded about learning new skills are essential for success within a scientific community and for securing a fellowship during your scientific journey. 
---
Together with Sophie Quick (University of Edinburgh, UK) and Adriana Bankston (University of California, USA*), I would like to share some thoughts and advice that I hope will be of use to anyone thinking of applying for fellowships worldwide. Let's examine them one at a time.
1. The Importance of Fellowships 
Funding is critical to the future of science and for training the biomedical workforce. Independent funding allows scientists to develop professionally and obtain the faculty positions they desire. We might argue that fellowships are the future (1) and are critical to scientists achieving professional independence and success (2) in driving the enterprise forward. The question remains, however, of which fellowships are most effective for achieving this goal. 
A recent study (3) shows that training awards may play an increasingly important role in bridging the transition to independence but may not be required for a faculty position. Another study (4)states that recipients of a training grant are more likely to receive future National Institutes of Health (NIH) funding. While fellowships can enable scientific independence, whether NIH training grants are required for future faculty success remains an area for further investigation. 
2. Where to Find Fellowships
Finding fellowship opportunities that are available can seem overwhelming and approaching senior colleagues for guidance is often the best way to gain insight into what is out there. Find out here about advice and tips given by postdocs (5) from all over the world. 
Finding Fellowships in the USA:
The organization Future of Research (6) engaged volunteers in researching fellowships by employing a worksheet used to perform data collection for advocacy (7), which was developed in collaboration with researchers at Wash U. St. Louis as part of the INTER-SECT program. Their work resulted in an online resource (8) that attempts to shed light on the process of researching fellowship information, and how fellowships may affect the salaries and benefits that researchers receive through institutions. There are various sources of U.S. fellowships, including one for graduate students (9) and one for postdocs (10).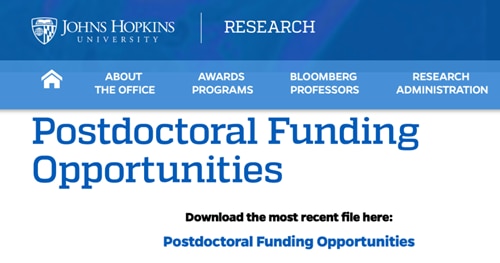 There are many resources you can use to find lists of available fellowships, including the ECR Central Funding schemes and fellowships for early career researchers (11), which includes a broad spectrum of options for specific countries.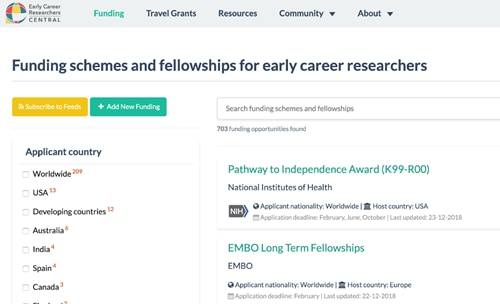 Finding Fellowships in Europe:
Eurodoc (12), the European Council of Doctoral Candidates and Junior Researchers, has compiled a country-specific list (13) of individual fellowships in Europe that contains external links to different funding opportunities. Another list put together by young researchers (14) details ten useful websites with a number of different options for European funding suitable for different stages of careers.
Individual funding agencies provide comprehensive information on their fellowship opportunities online. A well-known individual fellowship for post-doctoral researchers is the Marie Curie fellowship (15), which funds all areas of research and provides a living stipend as well as research costs. The Marie Curie Fellowship (16) offers many benefits. I secured one specifically targeted at foreign researchers working outside of their home country. This has additional funds allocated specifically for the visa process and relocation costs if you are considering leaving your home country. Have you considered going abroad and studying? What are the perspectives on emigrating for academic career advancement? What's it like to study abroad; what are the most crucial questions? Find out here (17).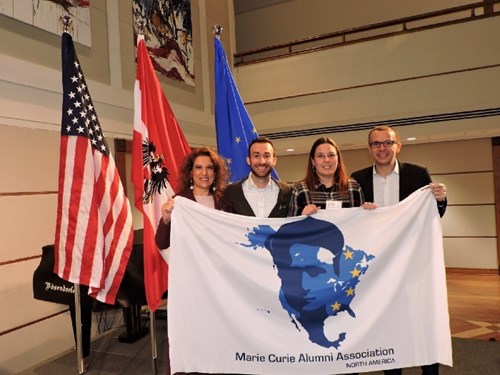 Group picture of the Italian Marie Curie Alumni Chapter;
Photo: Alberto Scarpa
Less well known is the UK Research and Innovation Future Leaders Fellowship Scheme (18),which began in 2018 and offers four years of funding for early-career researchers and innovators. It has the attractive benefit of the flexibility to work part-time, which enables you to combine work with personal responsibilities.
Trusts also provide a range of funding sources. The Wellcome Trust has a funding section (19)that is easy to navigate, with opportunities such as the Sir Henry Wellcome Postdoctoral Fellowship or the Sir Henry Dale Fellowship for those wishing to start their own group. The Leverhulme Trust offers 13 different schemes (20) that provide funding to early-career and more established researchers.
For those returning after a career break, there are a number of different fellowships (21) designed specifically to enable re-entry into research; for example, those funded by the Daphne Jackson Trust (22). This is particularly useful for women wishing to continue a research career after maternity leave. 
Some countries offer incentives for researchers to return to their native country, such as the HOMING fellowship (23).As an example, HOMING aims to encourage outstanding scientists of Polish descent to work at research units or companies in Poland with the involvement of a scientific partner, such as a local or foreign research partner. 
3. How to Obtain a Fellowship  
Identifying the most suitable source of funding is important, rather than wasting precious time applying for fellowships that don't match the research goals or the researcher's expertise. Once selected, the next challenge is to write a proposal that will beat the competition. Writing abstracts is essential to boost the visibility of your research ideas within a given field and for ensuring its future for your career. It helps you to conduct your research and provides a summary of your ideas for fellowship applications. How do you do it? What is the best step-by-step process? (24). 
When completing a successful application, the most important aspect is a strong, innovative, and well-described research idea. However, getting help from outside sources to guide the writing process will make an application better. Fellowship applications are often divided into different sections, with specific requirements for each. For example, the Marie Curie is split into three parts: Science, Excellence, and Implementation, all of which carry equal weight and require a similar level of attention. As such, a great Science section cannot compensate for points lost elsewhere. Additionally, the CV you submit can often be an afterthought but is actually a very important part of the process. Therefore, getting advice from different experts such as the University Grant Office, if possible, or the Public Engagement officer, as well as PIs, will strengthen an application.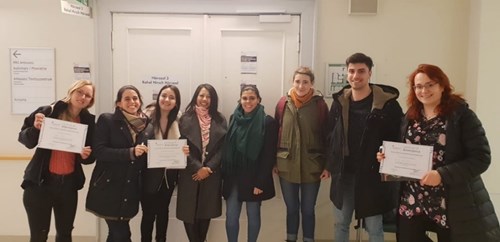 An international group of students from Berlin University attending a Proteintech workshop;
Photo: Karolina Szczesna 
Finally, consideration of technicalities can save applications as many fellowships and grants are rejected due to simple mistakes. For non-native English speakers, proofreading is essential; for me, it is particularly useful to also have my applications proofread by non-experts, as this will most likely be the audience for the initial application screening. Allow yourself time for this stage as it is essential that the documents you supply are accurate, so starting early will help. Let's eliminate our stress as much as possible; we need to avoid submitting too close to the deadline. Websites will usually become very busy, which often leads to a crash; unfortunately, however, this will not mean a deadline extension. 
We hope the resources presented above will be beneficial for scientists worldwide in deciding which fellowships to apply for. If you are lucky and get your fellowship, then please become someone who helps other colleagues. Ask for help and also be willing to help. We should all lend a hand!
Go for it! You can do it!
Written by    Dr. Karolina Szczesna
Senior Product Manager & Technical Support 
---

References 
2. Training awards increasingly important for future funding and landing a faculty job
3. The Increasing Importance of Fellowships and Career Development Awards in the Careers of Early-Stage Biomedical Academic Researchers
4. The Impact of Postdoctoral Fellowships on a Future Independent Career in Federally Funded Biomedical Research
5. Top tips for a successful transition to a postdoc role
7. Data collection for advocacy
8. Finding your funding path: How and where to find your pathway to research independence
9. Graduate Fellowships for Graduate Students (PhD and Masters)
10. Postdoctoral funding opportunities
11. Funding schemes and fellowships for early career researchers
12. The European Council of Doctoral Candidates and Junior Researchers
13. Individual fellowships in Europe
14. European grants put together by researchers
15. European and global individual fellowships
16. The benefits of being an MSCA fellow
17. Why studying abroad makes sense: scientists share their story
18. Future Leaders Fellowships
19. Wellcome Trust funding section
20. Leverhulme Trust
21. Women returners professional network
24. How to write a good scientific abstract
*This post does not represent the opinions of the University of California