This promotion has now ended
---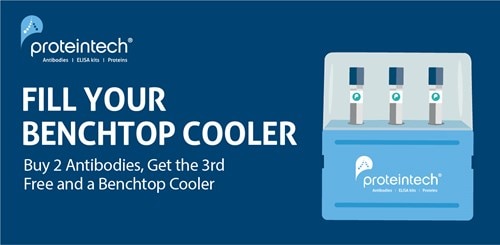 For a limited time, order 2 full-size products and get 1 product completely free, including for the first time, HumanKine® human cell-expressed cytokines and growth factors.
As a bonus, we will include a free Proteintech Benchtop Cooler to keep your new antibodies cold.
To take advantage of this offer, place an order online using the code below. 
Use the code This promotion has now ended
Valid in the US & Canada. Offer ends 06.30.2020
FAQs
What defines a "Full-sized" product?
All of the following are considered full-sized products:
Primary Antibodies
HumanKine® Proteins
Tag/Control Antibodies
Flow Antibodies
CoraLite® Conjugated Antibodies
Neutralizing Antibodies
Do I qualify for a free product if I purchase one $299 primary antibody and one $266 HumanKine® Protein?
Yes, you can mix and match various product categories in the promotion.

Your free product must be $266 or less.
Do I qualify for a free product if I purchase a 20ul trial size primary antibody and a 25ug neutralizing antibody?
Do I qualify for a free product if I purchase a $99 Tag/Control Antibody and a $35 Flow Antibody?
Yes, both are considered full-sized products.

Your free product must be $35 or less.
---
If you need assistance with ordering or have any questions relating to our products or services, please contact us or speak to a Proteintech representative via our 24-hour Live Chat.
---
Terms and conditions
This promotional offer is only available to customers based in the US and Canada.
This promotion allows the customer to choose any product for free when any two full-sized products are purchased.
The product of the least value will be chosen as the free product.
Any products in a "trial size", i.e. $99 trial size primary antibodies and 25ug neutralizing antibodies, will not qualify for the promotion. 
This promotion is valid on any full-size product currently available in the Proteintech catalog. Custom produced antibodies are not included.
This promotion is only valid from 04-01-2020 to 06-30-2020.
This promotion can only be used once in a single order. A maximum of one free product per order, regardless of additional full-sized products included in that order. Any additional products in the same order will be charged at full price.
This promotion code cannot be used in conjunction with any other promotional offer.
This promotion is only valid for orders quoting the promotional code and cannot be redeemed after an order has been placed.
The promotion code must be entered at checkout or quoted on your email/fax order to be applied to your order.
Proteintech reserves the right to cancel or refuse this promotion at any time.
Standard shipping costs will still apply.