The most frequently cited monoclonal anti-RFP antibody
Immunofluorescence and immunohistochemistry with the ChromoTek's anti-RFP antibody [5F8]
The ChromoTek rat monoclonal anti-RFP antibody 5F8  has been cited for the use in immunofluorescence (IF) and immunohistochemistry (IHC) experiments in more than 250 peer-reviewed articles. It is thus the monoclonal anti-RFP antibody referenced most often at the database  citeAB.  This top rank is the result of its performance and quality. The anti-RFP antibody 5F8  recognizes common RFP variants including mCherry, mPlum, mRFP, mRFPruby.
"The 5F8 antibody is great. We have beautiful staining in the olfactory bulb for our neurons electroporated with RFP-encoding vector." Manav Pathania, School of Medicine, Yale University
Related antibodies:

The ChromoTek mouse monoclonal  anti-RFP antibody 6G6  has been validated for Western blot (WB) experiments and provides an outstanding sensitivity.

The ChromoTek alpaca monoclonal and recombinant  RFP-Trap  has been validated for immunoprecipitation (IP) experiments and has already been referenced in 43 peer-reviewed publications.
The ChromoTek single domain  RFP-Booster  has been validated for immunofluorescence (IF), immunohistochemistry (IHC) and immunocytochemistry (ICC) experiments and provides superior accessibility & labelling of epitopes in crowded cellular environments.

All antibodies are tested on several different red fluorescent proteins like mCherry, mRFP, mRFPruby, mPlum. Please visit our webpage to look-up the specificity of each antibody.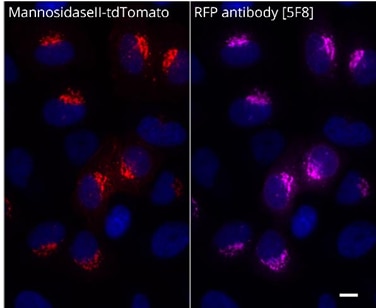 HeLa cells transiently transfected with MannosidaseII-tdTomato (Golgi). Primary antibody: [5F8] 1:1,000 Secondary antibody: goat anti-rat Alexa Fluor® 647 Fixation: 3.7 % PFA Scale bar: 10 µm