Despite the recent development of automated counters, the Neubauer chamber is still the most common method used for cell counting. A Neubauer chamber is used to perform a proper cell count, although the dimensions and volumes of each chamber may differ. The necessary elements to perform a cell count:
a) Cellular dilution to measure
b) Neubauer chamber
c) Optical microscope
d) Cover glass e) Pipette / micropipette with disposable tips
The equipment needed to perform a cell count with a Neubauer chamber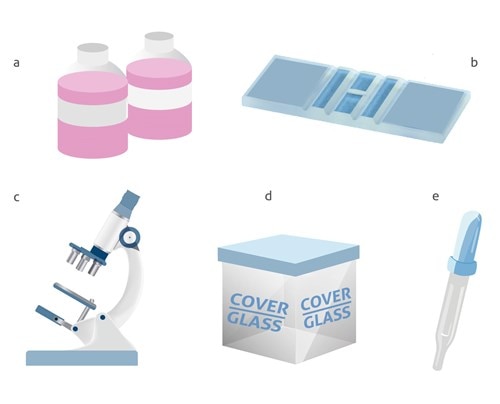 While performing the count, remember
Avoid counting cells that are obvious cell debris vs. rounded cells - When using trypan blue, count the cells that have excluded the dye
Cell suspensions should be dilute enough so that the cells do not overlap each other on the grid

Mix the cell suspension thoroughly before taking a sample to count

Count the cells in selected squares

Decide on a specific counting pattern to avoid bias
The formula for calculation of the cell concentration

The number of cells is the sum of all cells counted in all squares -

The volume is the total volume of all the squares counted -

In case a dilution was applied, the final concentration needs to be converted to the original concentration before the dilution
The equipment needed to perform a cell count with a Neubauer
We counted the cells in four squares to obtain a reliable estimate of the number of cells.

We obtained the following cell numbers: 54, 48, 52, and 60, which gave us a total of 214 cells.

The area of one square in the Neubauer chamber used equals 0.01 cm2, while the depth of the chamber is 0.01 cm.

Multiplying 0.01 cm2 by 0.01 cm gives 0.0001 ml total volume per one square.

Using the above equation, we divide the total number of cells (214) by volume (0.0001*4 squares = 0.0004) to obtain a concentration of 535 000 cells per ml.