Want to upgrade your immunofluorescence workflow? Go Direct!
Learn about the advantages of using directly conjugated primary antibodies for IF
---
Immunofluorescence (IF) is a common tool in biology that relies on the use of antibodies to visualize protein expression, distribution, and translocation with the help of a microscope. Conventional immunofluorescence is where fluorescent dyes are conjugated to a secondary antibody that detects the species-specific primary antibody (indirect IF) and is typically used to detect a single antigen in a cell or tissue. Multiplexing is where you detect multiple antigens in the same tissue sample, and these experiments have uncovered the importance of simultaneously exploring various molecular interactions in cellular and tissue microenvironments to gain more meaningful information. Direct IF is where fluorophores are directly conjugated to the primary antibody to detect the antigen of interest. Directly conjugated antibodies are gaining popularity due to their ease and flexibility in staining multiple antigens in the same sample and offer multiple advantages when multiplexing.
Proteintech's range of directly conjugated CoraLite® antibodies are perfect IF workflow solutions for a variety of reasons which we will now discuss.
Fig 1. Direct vs Indirect Immunofluorescence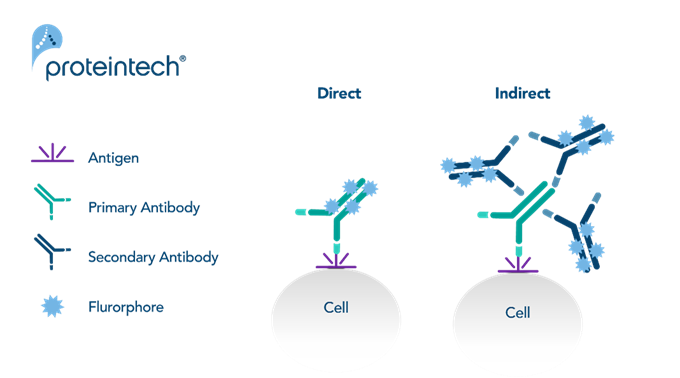 Direct IF saves time
Indirect IF multiplexes are timely process, due to longer incubation times of multiple primary and secondary antibodies accompanied by several washing steps. Sequential incubation of unlabeled primary antibodies is often recommended for indirect multiplexed immunofluorescence, which adds further time to the entire process. Primary antibodies with directly conjugated fluorophores, such as our CoraLite® antibodies, lowers the number of steps in the protocol by allowing the simultaneous incubation of different primary antibodies, eliminating secondary antibody incubation and associated washing steps - thereby saving you a considerable amount of time

Fig 2. Multiplexed Immunofluorescence on Mouse heart and Mouse brain tissues using Coralite conjugated primary antibodies
Eliminating Cross-Reactivity
Secondary antibodies used in immunofluorescence can exhibit cross-reactivity to primary antibodies raised in closely related species if the antibodies share conserved sequences and similar quaternary structures. As a result, secondary antibodies may bind to endogenous immunoglobulins within the sample or primary antibodies from a different species, leading to high background and/or false-positive results. Cross-adsorbed secondary antibodies are widely proposed to surmount these disadvantages, however at this can come at the expense of sensitivity. Using highly specific and sensitive fluorescent dye conjugated primary antibodies for multiplexing eliminates these problems by removing the need for secondary antibodies.
No more mouse (-on-mouse) troubles!
Successful multiplexing experiments require extensive planning, from the selection of antibodies, compatibility of excitation/emission spectra of fluorophores, to microscope configuration and so on. The most critical step is the selection of antibodies with right specificity and sensitivity. Different primary antibodies used in a multiplexing experiment must be raised in separate host species or of different isotypes. When using secondary antibodies on a tissue, endogenous antibodies blocked to avoid high background, a problem that becomes obvious when using primary antibodies raised in the same host species as the sample material (e.g. using anti mouse secondary antibodies on mouse tissues). Conjugated primary antibodies eases experimental planning as it allows the use of multiple antibodies raised in same species, within the same sample, without worrying about host species or antibody isotypes. It also enables the use of antibodies raised in the same host as the sample, without any additional blocking steps.
Multiplex with Coralite conjugates
Proteintech offers more than one thousand Coralite conjugated primary antibodies validated in immunofluorescence. Coralite fluorescent dyes have exceptional brightness, high photostability and narrow emission spectrum which makes them a great choice for multiplexed fluorescent experiments.
Fig 3. Same antibodies with three different Coralite conjugates. a-c) anti BOULE antibody conjugated to coralite488,594 and 647. d-f) anti DAZL antibody conjugated to coralite488,594 and 647. g-i) anti-TNP1 antibody conjugated to coralite488,555 and 647. Experiments were done on Mouse testis tissues.
Our highly cited primary antibodies are carefully chosen to make coralite conjugates, to further enable seamless experimental planning and execution. These antibodies are offered in two to three colors, Coralite488, Coralite594 and Coralite647 which provides greater flexibility in designing multiplexed Immunofluorescence experiments (Figure 3). Our well-controlled conjugation protocol using coralite dyes yields conjugated antibodies with highest lot to lot consistency.  Using directly conjugated antibodies will upgrade your IF experiments by creating low background, high resolution images whilst also streamlining your workflow by removing multiplexing complications and saving valuable time.  
Blog written by Sreethu Sankar, Product Manager, Proteintech Group

---
Related Content
Advantages of CoraLite® direct staining for IF
Save time on your immunofluorescence experiments
9 Tips to optimize your IF experiments
Conjugation of fluorescent dyes to Nanobodies
GFP Nanobody for better images in immunofluorescence
GFP and RFP-Booster for better immunofluorescence imaging
New anti-mNeonGreen antibody & Nano-Trap for Immunofluorescence & Immunoprecipitation

Support
Newsletter Signup
Stay up-to-date with our latest news and events. New to Proteintech? Get 10% off your first order when you sign up.