How do I know if the antibody will cross-react?
Cross-reactivity occurs when an antibody raised against one specific antigen recognizes two antigens that have similar structural regions. In this blog, we draw on our experience as antibody experts to explain why this might happen, and provide you with the tools to determine cross-reactivity in your own experiments.
---
What is cross-reactivity?
An antibody has a specific amino acid sequence (the Fab region) that dictates its affinity for a specific antigen. Cross-reactivity between antigens occurs when an antibody raised against one specific antigen has a competing high affinity toward a different antigen, therefore the antibody is able to recognize a protein which is different to the one it was raised against. This is often the case when two antigens have similar structural regions that the antibody recognizes.
Cross-reactivity can invalidate the results of an experiment and has negative impacts on scientific reproducibility. Thus, testing an antibody for cross-reactivity with closely related proteins is a to ensure accurate results.
How do I check cross-reactivity?
A quick and easy check for antibody cross reactivity is to assess the percentage homology of the antibody immunogen to that of other similar proteins. This can be achieved by pair-wise sequence alignment using  NCBI-BLAST. Here, you can check for an antibody's potential cross reactivity against that of similar proteins or in other species. Cross-reactivity is not always a negative quality, for example  cross-reactivity of an antibody for a target across species allows the same antibody to be used in multiple model organisms.
Remember that polyclonal antibodies have a higher chance or cross-reactivity due to the fact that they recognise multiple epitopes along the immunogen sequence. Therefore if you suspect your antibody of cross-reacting negatively, consider switching to a monoclonal antibody (a homologous IgG antibody population only recognizing one epitope). Conversely, if you are looking for an antibody to work in other species, use a polyclonal antibody against a recombinant, long-length protein. 95% of Proteintech's antibodies are raised against recombinant, long-length human proteins, meaning that they have an increased chance of cross-reactivity in non-human models such as mouse, rat, drosophila and zebrafish.
What is the "right number" for homology to predict cross-reactivity?
Based on our extensive experience in antibody development and working with thousands of customers, the magic number for almost guaranteed cross-reactivity is 75% homology with the immunogen sequence. Anything over 60% has a strong likelihood of cross-reacting, but will need to be verified in an assay and sample specific manner. 
Does my antibody cross-react with other species?
It depends on the extent of protein sequence similarity between the immunogen and the potential cross-reactive protein sequence. As mentioned above, you can use NCBI-BLAST and specifically select for your species of choice.
Working example: What is the likelihood of Proteintech's P53 polyclonal antibody (10442-1-AP) cross-reacting in sheep samples (Ovis aries)? 
Step 1: Locate the immunogen sequence for the antibody (link to immunogen sequence can be found under "Product information").
Step 2: Paste sequence into the NCBI-BLAST "query sequence" box.

Step 3: Search for the organism (use the species' Latin name) you want to check homology with (under "Standard"). 

Step 4: Click BLAST and review results. 10442-1-AP has a 71% homology with Sheep, and therefore a strong likelihood of reactivity. This is confirmed in publication data.  

How to avoid cross-reactivity during immunohistochemistry/immunofluorescence experiments
Cross-reactivty might occur in immunostaining assays in tissue samples, for example while working is mouse tissues with mouse-derived antibodies. You can see our blog here on how to tackle mouse-on-mouse staining issues, but one way around this is to use directly conjugated primary antibodies such as Proteintech's CoraLite range. For multiplexing, ensure you are using secondary antibodies raised in different species, therefore you can choose secondary antibodies raised against these different species.
Mouse monoclonal antibodies can be used when multiplexing if they are of different IgG subtypes; IgG1, IgG2a, IgG2b and IgG3. ChromoTek's Nano-Secondary range show NO reactivity with other species or sub-classes, making them perfect tools for multiplexing.
| | |
| --- | --- |
| | Multiplexed immunostaining of HeLa cells with two alpaca anti-mouse Nano-Secondaries and one anti-rabbit Nano-Secondary. Green: mouse IgG1 anti-COX4 + alpaca anti-mouse IgG1 VHH Alexa Fluor 488. Magenta: mouse IgG2b anti-Tubulin + alpaca anti-mouse IgG2b VHH Alexa Fluor 647. Yellow: rabbit anti-Lamin + alpaca anti-rabbit IgG VHH Alexa Fluor 568. Scale bar, 10 μm. Images were recorded at the Core Facility Bioimaging at the Biomedical Center, LMU Munich. |
What is secondary antibody cross-adsorption?
Cross-adsorbed secondary antibodies are those polyclonal antibodies that are manufactured with an additional purification step in order to filter out members that bind to off-target species of immunoglobulin (IgG). This process can decrease species cross-reactivity and increases species specificity. Depending on the experiment set up there are cross-adsorbed and highly cross-adsorbed secondary antibody varieties. 
---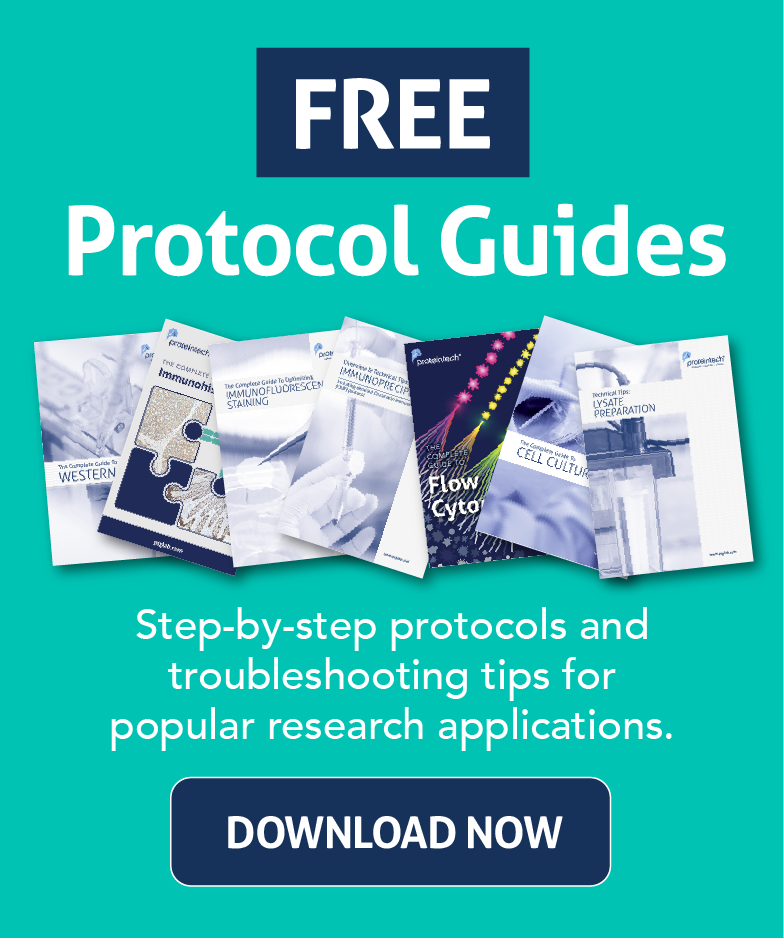 Related Content
Protein or peptide antigen? Advantages and disadvantages
Want to upgrade your immunofluorescence workflow? Go Direct!
Why are recombinant Nanobodies/ VHHs beneficial?
How to write a good scientific abstract?
Learn how to save precious hours on your IP, IF, and western blotting experiments

Support
Newsletter Signup
Stay up-to-date with our latest news and events. New to Proteintech? Get 10% off your first order when you sign up.