Fluorescent detection uses secondary antibodies that are   conjugated to specific fluorophores , so no additional substrate is necessary, though a specially designed digital imaging system is needed.
Fluorophores are excited by infrared, LED, or visible light using this system
Image collected and quantified.
The fluorophores themselves produce a signal that is far more stable  than the enzymatic detection method, lasting for months or even years. The fluorescent signal also has a much  greater dynamic range  than chemiluminescence, so there is better linearity in the detection limits. However, fluorescence detection is generally considered to be less sensitive than enzymatic detection.
Different fluorophore-tagged antibodies with different emission wavelengths can be used on a single Western blot membrane, which means that    multiplexing your experiment  is possible without stripping and re-probing the membrane, so there is no risk of reducing the signal.
Advantages
Stable, multiplexing straightforward
Disadvantages

Less sensitive, requires specialist equipment.

 Top tips

Take time to optimize the imaging system for the level of background noise, depending on the excitation window for the fluorophore.
Choose secondary antibodies with fluorophores emitting different wavelengths so you can multiplex and get the most out of a single experiment.
Protect your membrane from light to avoid the signal degrading, so you can re-image when necessary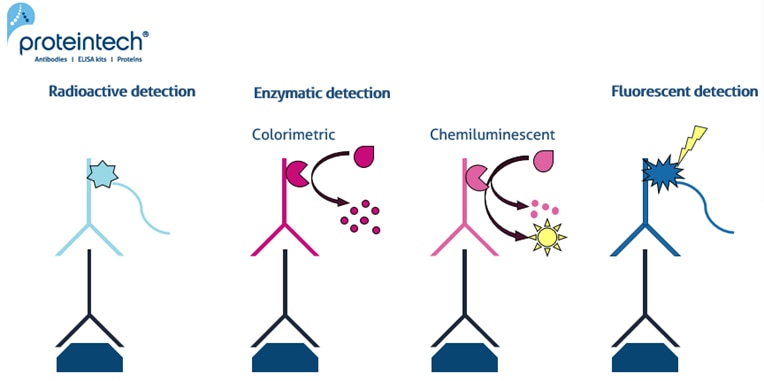 Figure 1. Different detection methods for Western Blot including radioactive, enzymatic (colorimetric & chemiluminescent) and fluorescent analysis.
Whichever detection method you choose, the resulting image will ultimately depend on the overall design of your experiment, the use of proper controls, and the sensitivity of your antibody, as well as other optimization steps in your protocol.
The decision on which detection method to use may be made solely for you, based on your lab, or you may have the ability to trial a few options – personal preference, as well as scientific reasons, can sometimes influence a particular choice.