2. Posttranslational modifications (PTMs)
a) Glycosylation and glycanation
The majority of proteins that are synthetized on ribosomes associated with the endoplasmic reticulum undergo glycosylation. That means a covalent attachment of sugar moieties is added to the polypeptide chain. The two most common types of glycosylation in Eukaryotes are N-linked glycosylation – to asparagine, and O-linked glycosylation – to serine and threonine. Extensive glycosylation adds additional molecular weight, not included in the original protein sequence, which makes proteins migrate slower.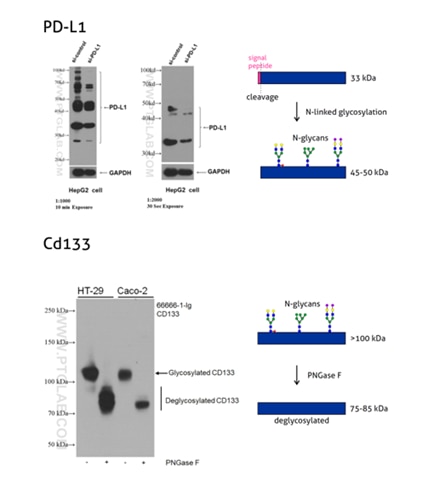 Figure 3: Programmed cell death ligand 1 (PD-L1, CD274, or B7-H1) (66248-1-Ig) is a type I transmembrane protein, acting as a key regulator of the adaptive immune response. Full-length PD-L1 MW is 33 kDa. The signal peptide is cleaved off during protein transport to the plasma membrane and the protein is heavily N-glycosylated with an apparent molecular weight of 45–70 kDa with the major glycosylated form of 45–50 kDa (PMID: 27572267).
Please note: An enzymatic deglycosylation is a commonly used experimental technique to verify whether a studied protein is glycosylated. Prior to WB, the protein sample is incubated with an enzyme that is able to remove parts or full glycan chains. WB protein species from the digested sample are then compared with the undigested sample, and any observed shift in molecular weight indicates protein glycosylation. One commonly used enzyme is PNGase F; it removes N-linked glycans by cleaving the bond between the innermost N-Acetylglucosamine of the glycan chain and the asparagine residue.
CD133, also known as PROM1 (prominin-1) (18470-1-AP), is a transmembrane glycoprotein with an NH2-terminal extracellular domain, five transmembrane loops, and a cytoplasmic tail. CD133 is a highly glycosylated protein with an apparent molecular weight of 115-120 kDa. After lysates treatment with PNGase F, CD133 shifts to a protein with an MW of 75–85 kDa. That corresponds to the calculated molecular weight of deglycosylated CD133 (PMID: 23150174).
Proteoglycans are a special case group of glycoproteins. They are extracellular matrix proteins with long unbranched glycosaminoglycan chains covalently attached to the amino peptide chain core. Usually, the molecular weight of the sugar group is even larger than the protein component.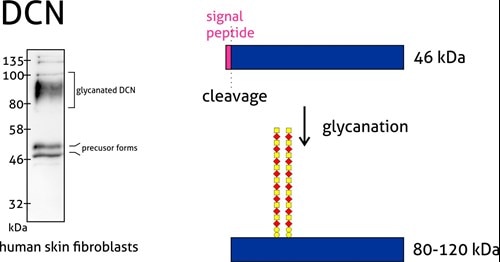 Figure 4: Decorin (14667-1-AP) is a member of the small leucine-rich proteoglycan family of proteins. Decorin precursor forms a range of 43–47 kDa MW. It contains a cleavable N-terminal peptide signal and can also be glycosylated. The attachment of glycosaminoglycans (chondroitin sulfate or dermatan sulfate) to decorin occurs in the Golgi apparatus prior to secretion of the mature glycanted form from cells.
b) Phosphorylation
One of the most common posttranslational modifications is protein phosphorylation. It takes place on serine, threonine, and tyrosine residues. Phosphorylation regulates protein function, its enzymatic activity, protein–protein interactions, and protein localization. Phosphorylation is catalyzed by phosphatases and can be reversible – phosphorylated proteins can be dephosphorylated by protein dephosphatases. The addition of a single phosphoryl group adds +/- 1 kDa to the MW, which is often beyond the resolution of the standard SDS-PAGE. However, multiple phosphorylation sites can lead to more prominent MW changes.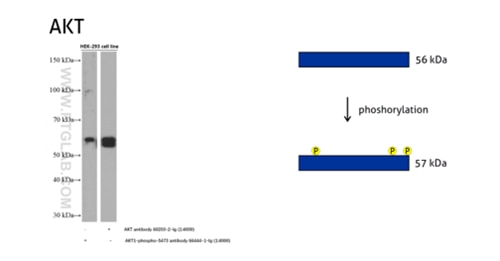 Figure 5: The serine/threonine-protein kinase AKT plays a role in many cellular processes. Survival factors can suppress apoptosis in a transcription-independent manner by activating the serine/threonine kinase AKT1, which then phosphorylates and inactivates components of the apoptotic machinery. (60203-2-Ig detects all the AKT members with or without phosphorylation, 66444-1-Ig detects the phospho-Ser473 of AKT1 and phospho-S474 of AKT2/phospho-Ser472 of AKT3.)
c) Ubiquitination
Protein ubiquitination means a covalent ubiquitin is added to lysine, cysteine, serine, threonine, or directly to the protein N-terminus. Ubiquitin is a small (+/-8.6 kDa) protein expressed across almost all tissue types. Ubiquitination is an enzymatic reaction catalyzed by a three-enzyme cascade (E1, E2, and E3). That provides substrate specificity and activation, conjugation, and ligation steps. Proteins can be monoubiquitinated (with one ubiquitin molecule) or polyubiquitinated. Polyubiquitination takes place when additional ubiquitin molecules are added to the initial ubiquitin molecule. Ubiquitination via the proteome can mark proteins for degradation. It is also important for cellular signaling, the internalization of membrane proteins , and the development and regulation of transcription. Ubiquitin can be removed from proteins by deubiquitinating enzymes, which lowers their MW.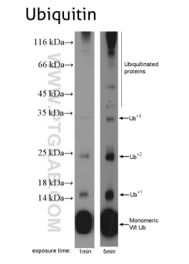 Figure 6: Ubiquitin B (UBB) (10201-2-AP), a member of the ubiquitin family, is required for ATP-dependent, non-lysosomal intracellular protein degradation of abnormal proteins and normal proteins with a rapid turnover. This gene consists of three direct repeats of the ubiquitin coding sequence with no spacer sequence.