Advantages of recombinant Nano-Secondary reagents
Recombinant Nano-Secondary reagents are very precise secondary antibodies with great advantages.
---
Nano-Secondary reagents   are monoclonal Nanobodies that bind to primary antibodies in a species and subtype specific manner, i.e. Nano-Secondary reagents are very precise secondary antibodies. They are recombinantly produced in bacterial or other animal-free expression systems; in contrast, classical mono- or polyclonal secondary antibodies are traditionally produced using hybridoma technologies or are isolated from a host's blood.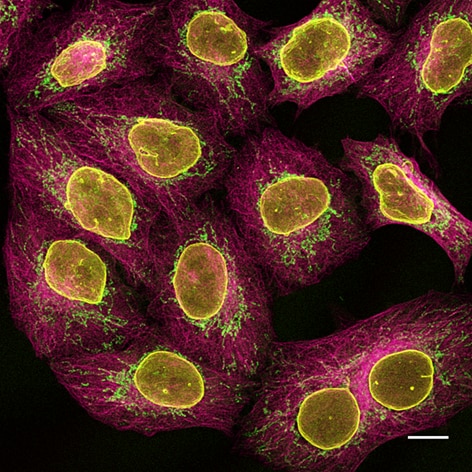 The recombinant nature of the Nano-Secondary reagents' production enables multiple advantages:
Reproducible and controlled manufacturing
ChromoTek's recombinant Nano-Secondary reagents are characterized by both DNA and protein sequence. Therefore, we produce identical Nano-Secondary reagents in each manufacturing batch with high purity and virtually no batch-to-batch variation.
Highly species and subtype-specific
During development, Nanobodies with cross-reactivity to other, commonly used species' IgG or serum proteins are excluded. We select only Nanobodies with the desired specificity. Therefore, our Nano-Secondary reagents have an ultra-low background and hence do not require any kind of pre-adsorption.
Nano-Secondary reagents from ChromoTek are recombinantly expressed in serum-free expression systems. There is no contamination from serum components, such as albumin and IgG.
Our manufacturing process is totally animal free, though Nanobodies are generated from immunization of alpacas and llamas.
ChromoTek engineers Nano-Secondary reagents at the genetic level enabling the generation of monovalent, bivalent, bispecific formats, and various fusions. In addition, site-specific conjugates can be manufactured. 
---
Related Content
How to choose the best secondary antibody for your application
Important facts to know when using Nano-Secondary reagents
The importance of blocking when using Nano-Secondary reagents for IF
Why are recombinant Nanobodies/ VHHs beneficial?
Want to upgrade your immunofluorescence workflow? Go Direct!

Support
Newsletter Signup
Stay up-to-date with our latest news and events. New to Proteintech? Get 10% off your first order when you sign up.