Tips for detecting phosphoproteins by western blot
Tips and tricks to optimize your western blot for phosphoprotein detection
---
The phosphorylation of proteins is an important post-translational modification that plays a critical role in the regulation of signal transduction and many important physiological processes, e.g. apoptosis, metabolism and proliferation. Protein kinases catalyze the covalent addition of phosphates most commonly to the side chains of serine, threonine, and tyrosine amino acid residues. The reverse reaction (dephosphorylation) is catalyzed by phosphatase enzymes.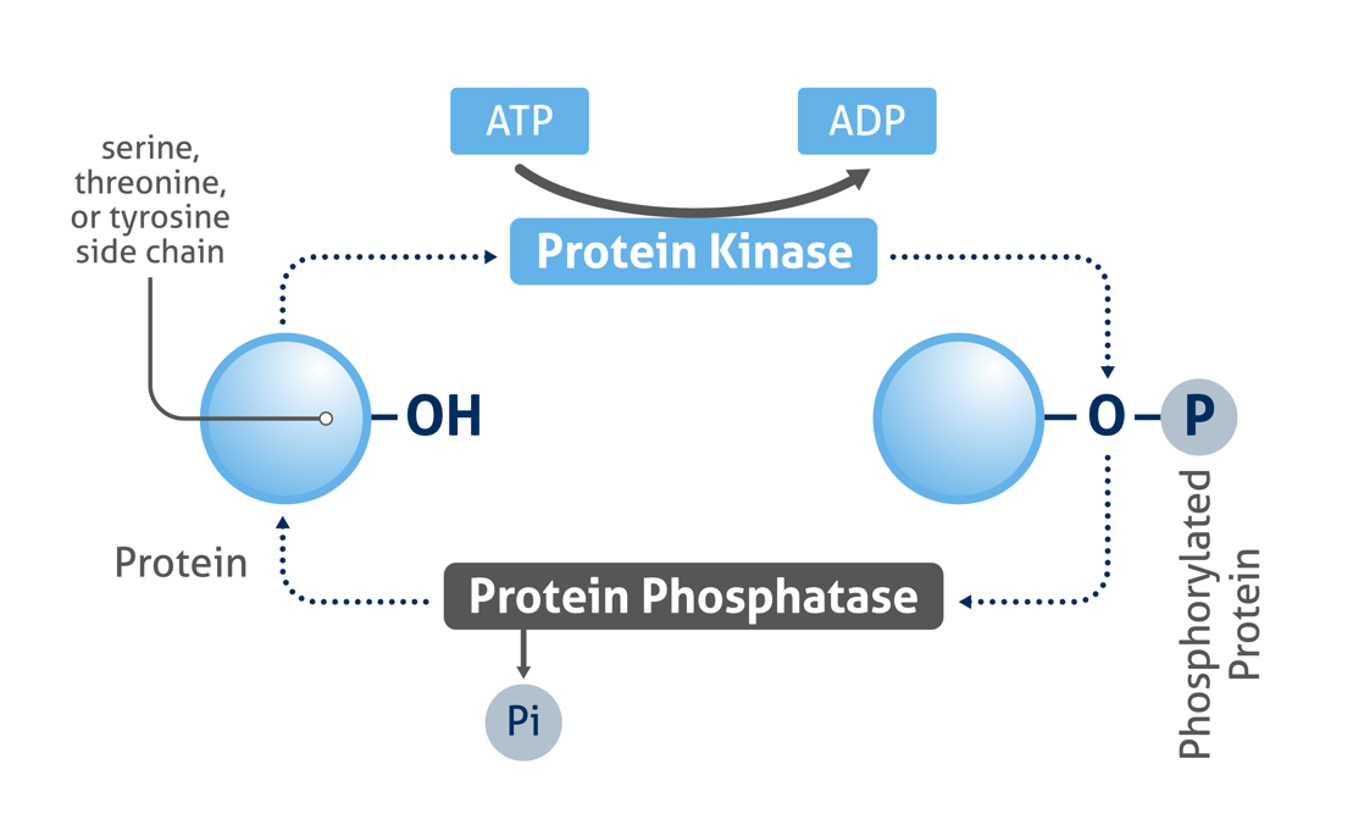 Figure 1: Mechanism of protein phosphorylation
Western blot is the most commonly used method to assess the phosphorylation state of proteins. While the general western blot protocol does not differ greatly for detecting phosphorylated proteins, there are various factors you should consider to ensure your phosphoprotein detection is optimal:
1. Understand how and when your protein is phosphorylated
Many proteins are phosphorylated only under certain conditions, e.g., when stimulated by a certain factor, in response to specific cellular signaling, or in a diseased state. Read the literature surrounding the phosphorylation of your protein of interest to understand when you should expect to detect the phosphorylated state. If your cells require stimulation for phosphorylation to occur (Figure 2 & 3), it is recommended to test different concentrations/conditions and to perform a time-course experiment. This will help you to understand the extent to which the phosphorylation is transient and enable you to choose the most appropriate time points for your experiments.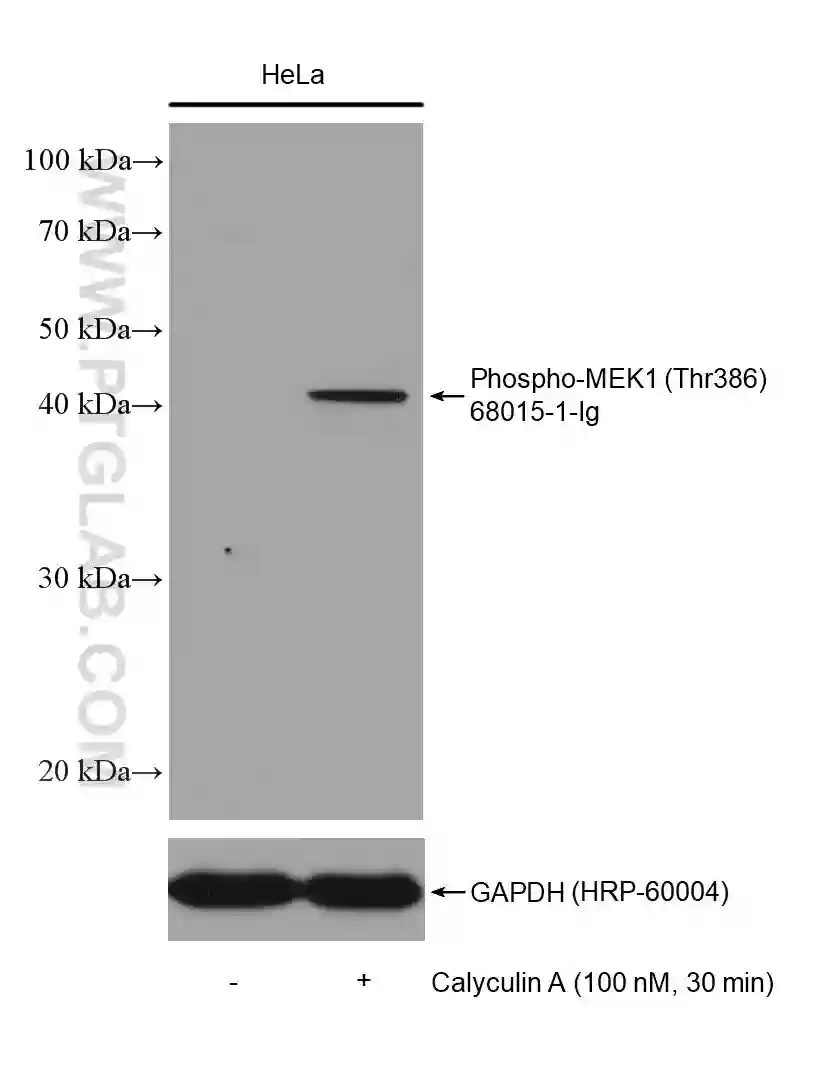 Figure 2: Western blot detection of Phospho-MEK1 (Thr386) (68015-1-Ig) in non-treated and Calyculin A treated HeLa cells. The membrane was stripped and reprobed for GAPDH as a loading control (HRP-66240).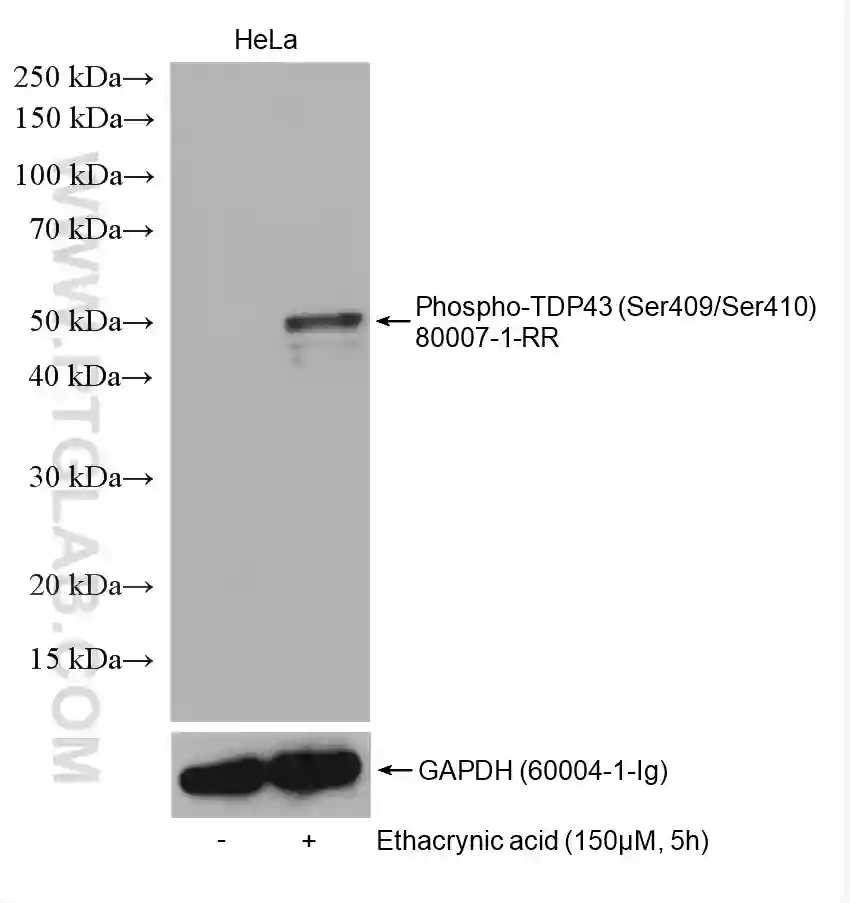 Figure 3:  Western blot detection of Phospho-TDP43 (Ser409/Ser410) (80007-1-RR) in non-treated and ethacrynic acid (150 µM, 5 h) treated HeLa cells. The membrane was stripped and reprobed for GAPDH (60004-1-Ig) as a loading control. 
2. Keep your phosphoproteins intact 
During sample lysis, endogenous phosphatases are released into the lysate and can rapidly dephosphorylate proteins. To prevent this, it is recommended to add phosphatase inhibitors to your lysis buffer. Protease inhibitors should also be added to prevent sample degradation. The reducing conditions of the SDS sample buffer can also help to inhibit phosphatase activity, and it is recommended to quickly transfer your lysates into sample buffer for storage.
Keep samples on ice at all times and pre-chill your reagents! Find out more about lysate preparation.
3. Optimize your blocking conditions
Blocking is an important step of western blotting and prevents non-specific binding of antibodies to the membrane. When detecting phosphoproteins, you should be mindful of the blocking reagent used. Non-fat milk is commonly used for blocking as it is widely available and inexpensive. However, milk contains the phosphoprotein casein, which can potentially be detected on the membrane by anti-phospho antibodies, resulting in high background. Therefore, if you find that background is high when using 5% milk, consider switching to an alternative blocker such as bovine serum albumin (BSA).
At Proteintech, we regularly perform detection of phosphoproteins and have found 5% non-fat milk to be compatible with most of our anti-phospho antibodies! Our product-specific protocols contain our blocking recommendations for each antibody.
 4. Avoid phosphate-based buffers
The sodium phosphate contained in phosphate-buffered saline (PBS) can interact with anti-phospho antibodies, affecting the binding of the antibody to the target protein. When detecting phosphoproteins by western blot, it is recommended to use Tris-based buffers, e.g. Tris-buffered saline with Tween-20 (TBST) instead. If it is necessary to use PBS-based solutions in some protocol steps, make sure to wash the membrane thoroughly with TBST to remove any sodium phosphate before antibody incubations.
5. Use phospho-specific antibodies
It is important to select antibodies which are highly specific for the phosphorylated protein state only. If the antibody is not specific, this can result in simultaneous detection of total protein and confound the interpretation of your results.
Search for your target in Proteintech's growing range of highly specific phospho-antibodies.
6. Detect the total protein
The measured levels of phosphorylated protein may change due to cell treatment or gel loading errors. Detecting the total target protein by western blot can serve as a loading control for your experiment and will allow you to determine the fraction of the total protein that is phosphorylated.
For membrane stripping and reprobing, it is recommended to use polyvinylidene fluoride (PVDF) membranes, which are more robust than nitrocellulose.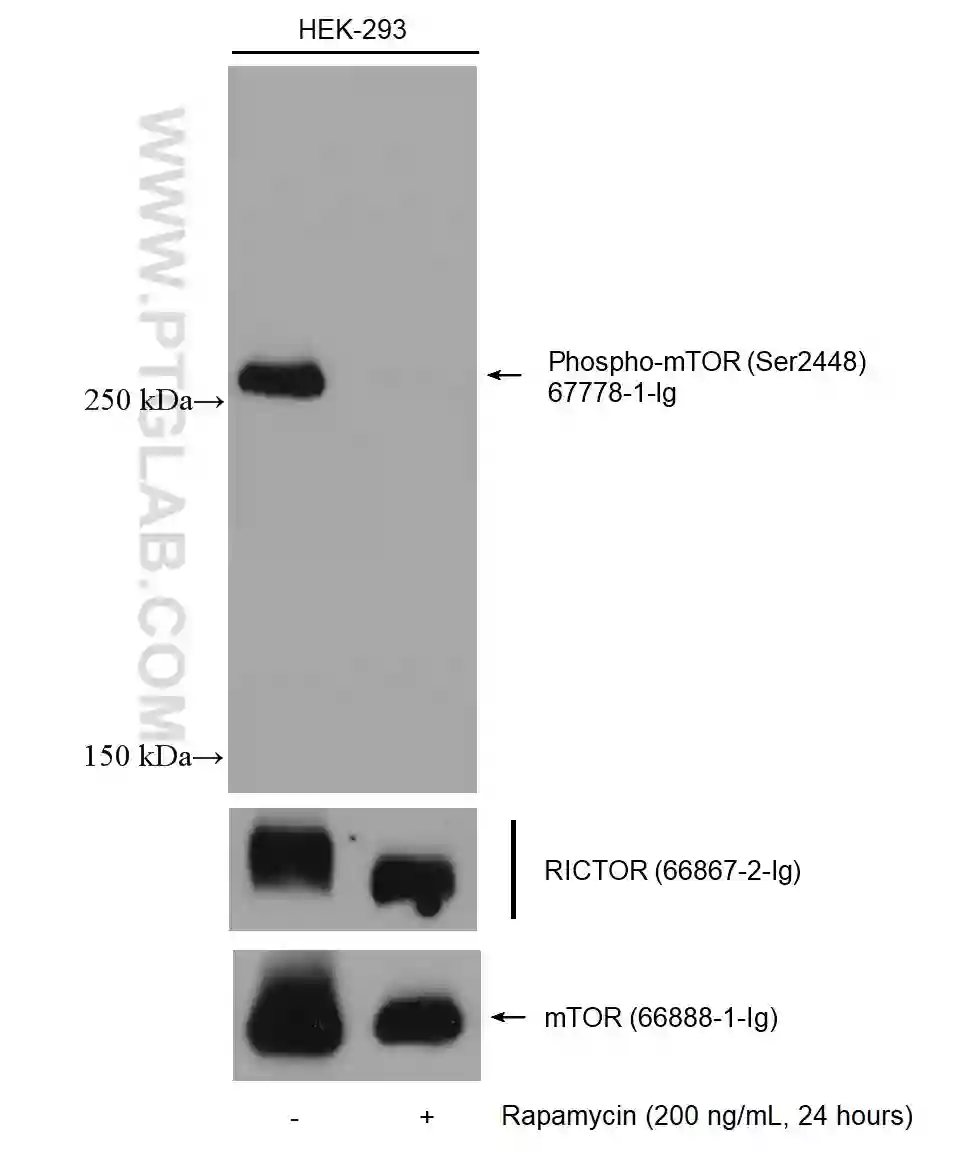 Figure 4:  Western blot detection of Phospho-mTOR (Ser2448) (67778-1-Ig) in non-treated and rapamycin-treated HEK-293 cells. The membrane was stripped and reprobed for RICTOR (66867-2-Ig) and mTOR (66888-1-Ig).
7. Use appropriate controls
Always include experimental control samples in your western blot – for example a positive control where phosphorylation of the protein is expected, and a negative control in which you know that no phosphorylation of the protein should be present.
Treating your cells with phosphatases serves as a useful control experiment to verify that your detected band is the phosphorylated protein – the band should disappear following phosphatase-induced dephosphorylation (Figure 5).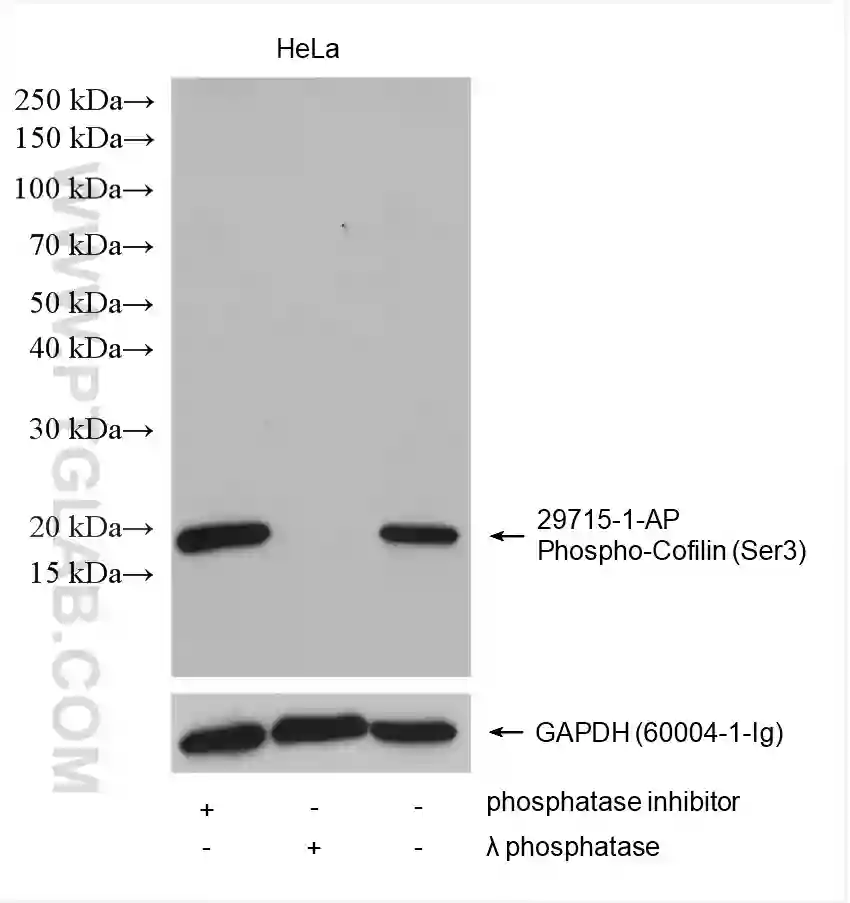 Figure 5: Western blot detection of phospho-Cofilin (Ser3) (29715-1-AP) and GAPDH (60004-1-Ig) in HeLa cell lysates. The addition of a phosphatase inhibitor (lane 1) increased the amount of phospho-Cofilin (Ser 3) detected compared to no inhibitor (lane 3). No band was detected for phospho-Cofilin (Ser3) after lambda phosphatase treatment of lysates (lane 2). 
8. Detecting low-abundance phosphoproteins
Often, the fraction of phosphorylated protein compared to total protein can be very low, which can cause issues during western blot detection. If the phosphoprotein signal is low, there are several options to improve the detection:
Consider that low signal may reflect insufficient induction of phosphorylation (see Tip #1 above).
9. Multiplex your western blot – fluorescence
Quantification of phosphoproteins following membrane stripping is not ideal, since the membrane stripping procedure can remove sample proteins from the membrane. Fluorescent western blotting can be used to avoid this issue, allowing you to detect both versions of the protein on the same membrane. Multiplexing your western blot typically requires using antibodies against the total and phosphorylated protein raised in 2 different species. Fluorescent dye-conjugated secondary antibodies are then used for detection.
Are your total protein and phospho antibodies raised in the same species?
Proteintech's FlexAble Antibody Labeling Kits provide a quick and easy method to multiplex your fluorescent western blots using same species antibodies.  
Written by Cali Anderson, Technical Specialist at Proteintech
---
Related Products
Western blot products overview
Tag & loading control antibodies
SignalBright Chemiluminescent Substrate
Related Content
Lysate Preparation: How Do I Optimize My Extraction?
Why Does The Observed Protein Molecular Weight (MW) Differ From The Calculated One?
Loading Control Antibodies for Western Blotting
Detecting low abundance proteins via Western Blot
Proteases for Western Blotting: Choosing the right tools for the job
How to save time on your immunoassay experiments

Support
Newsletter Signup
Stay up-to-date with our latest news and events. New to Proteintech? Get 10% off your first order when you sign up.