Sensitive indirect and sandwich ELISA kits for detecting immunoglobulins against SARS-CoV-2 proteins
---
Understanding the novel coronavirus and curbing the spread of COVID-19 requires a diverse array of reagents. One of the most important tools is Enzyme-Linked Immunosorbent Assays (ELISAs), qualitative and quantitative tests for detection of different molecules. In the case of SARS-COV-2 and COVID-19, these kits detect patient immunoglobulins against viral proteins to assess immunity. Emerging evidence suggests that hyperactivity of the immune system after SARS-COV-2 infection can trigger excessive release of cytokines such as IL-6, TNF alpha and IFN gamma. This rapid immune escalation is called the cytokine storm syndrome and can lead to severe lung damage and death.
Proteintech offers well-validated and highly sensitive indirect and sandwich ELISA kits for detecting immunoglobulins against SARS-CoV-2 proteins and the cytokines involved in cytokine release syndrome. These kits are developed and validated to detect IgG and IgM immunoglobulins against Receptor Binding Domain (RBD) of SARS-CoV-2 Spike protein (S protein) and Nucleocapsid protein (N Protein). Proteintech`s wide range of cytokine-specific ELISA kits are extensively validated using in-house developed, human cell-expressed cytokines.
SARS-CoV-2 related ELISA kits
Examples of Proteintech SARS-CoV-2 ELISA Kits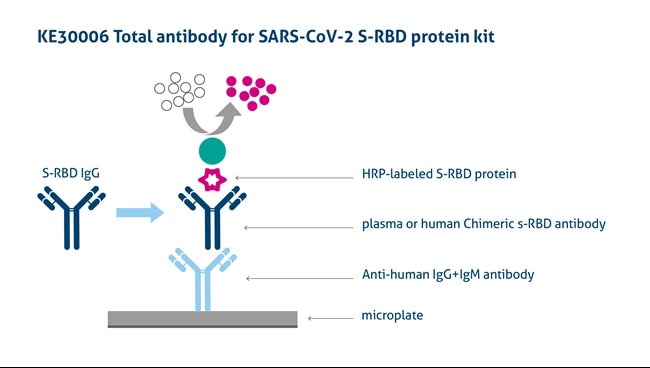 AuthentiKine™ ELISA kits
AuthentiKine™ ELISA kit development starts with production of HumanKine® immunogens, which are human proteins with native glycosylation and processing. Due to the highest quality immunogens in the industry, the capture and detection antibodies have the highest affinity for human proteins. To best mimic the human sample analyte for optimizing the antibody parameters, HumanKine® proteins are used as the standard. This means that the antibody manufacturing and conditions for optimizing are built around using human proteins as they are in nature, resulting in unparalleled sensitivity and accuracy. 
| | | | |
| --- | --- | --- | --- |
| ELISA Kit | Catalog number | Sample Type | Sensitivity (pg/mL) |
| Human IL-6   ELISA kit | KE00139  | serum, plasma, cell culture supernatant   |  1.2 |
| Human IFN-gamma  ELISA kit | KE00146 | serum, plasma, cell culture supernatant  | 0.4 |
| Human Cystatin C  ELISA kit | KE00150 | serum, plasma, cell culture supernatant, urine, saliva and human milk | 10.5 |
| Human TNF-alpha  ELISA kit | KE00154 | serum, plasma, cell culture supernatant  | 8.6 |
| Human HGF  ELISA kit | KE00168 | serum, plasma, cell culture supernatant | 260 |
| Human IL-10  ELISA kit | KE00170 | serum, plasma, cell culture supernatant | 2.3 |
| Human beta-NGF ELISA Kit | KE00174 | Serum, plasma, Cell culture supernatants | 0.1 |
| Human IL-27 ELISA Kit | KE00182 | Serum, plasma | 0.1 |
| Human M-CSF ELISA Kit  | KE00184 | Serum, Plasma, Cell culture supernatants, Urine, Saliva | 1.1 |
LIVECHAT
If you have any questions, contact us now via Live Chat
Chat