AuthentiKine™ ELISA Kits
AuthentiKine™ ELISA kits are Proteintech's premium line of ELISA kits for measuring minute quantities of human serum factors.​
Ultra-sensitive kits

AuthentiKine™ ELISA kits are between 10X and 1000X more sensitive than kits sold by leading competitors. View comparison data.
To achieve superior sensitivity for human samples, these kits are built from the ground up using HumanKine® human-cell expressed cytokines and growth factors, in contrast to the industry standard of E. coli-derived proteins.
AuthentiKine™ ELISA kit development starts with production of HumanKine® immunogens, which are human proteins with native glycosylation and processing. Due to the highest quality immunogens in the industry, the capture and detection antibodies have the highest affinity for human proteins. To best mimic the human sample analyte for optimizing the antibody parameters, HumanKine® proteins are used as the standard. This means that the antibody manufacturing and conditions for optimizing are built around using human proteins as they are in nature, resulting in unparalleled sensitivity and accuracy.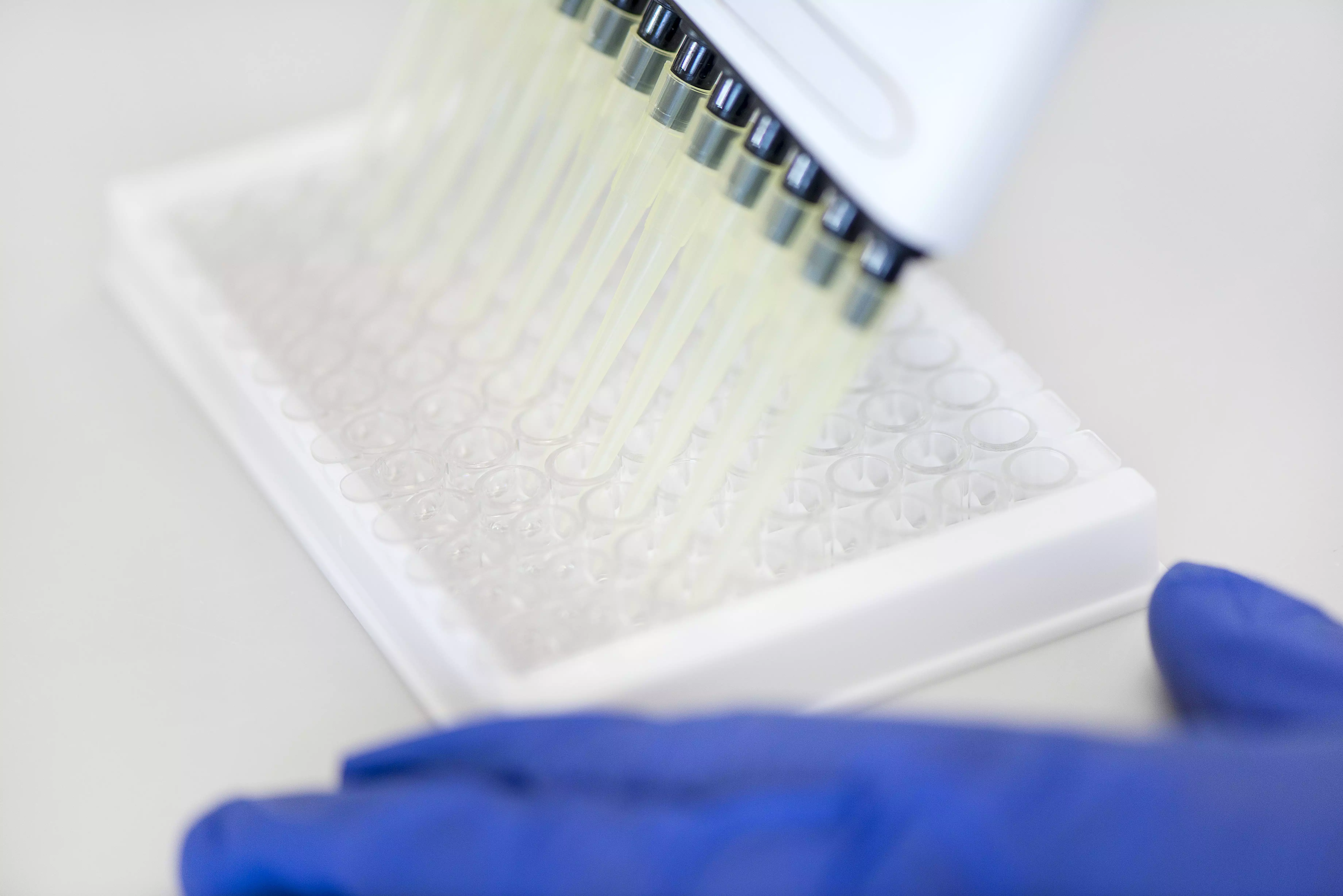 Proteintech's AuthentiKine™ ELISA kit's sensitivity vs leading competitor
Comparison of Proteintech's AuthentiKine™ ELISA kits' sensitivity versus top competitor's kits determined by adding two standard deviations to the concentration corresponding to the mean optical density of 20 zero standard replicates.
Minimum Detectable Dose (pg/mL)
| Target | Fold better sensitivity | Proteintech | Leading Competitor |
| --- | --- | --- | --- |
| Human IFN-gamma | 20X | 0.4 | 8 |
| Human Cystatin C | 10X | 10.5 | 102 |
AuthentiKine™ ELISA kit product range
| ELISA Kits | Sample Type | Sensitivity |
| --- | --- | --- |
| Human beta-NGF ELISA Kit | Serum, plasma, Cell culture supernatants | 0.1 pg/mL |
| Human Cystatin C ELISA Kit | Serum, plasma, Cell culture supernatants, Urine, Saliva, Human milk | 10.5 pg/mL |
| Human FLT3 Ligand ELISA Kit | Serum, plasma, Cell culture supernatants | 0.15 pg/mL |
| Human Growth Hormone ELISA Kit | Human serum , Cell culture supernatants | 0.46 pg/ml |
| Human HGF ELISA Kit | Serum, Plasma, Cell culture supernatants | 0.26 ng/mL |
| Human IFN alpha 2A ELISA Kit | Cell culture supernatants | 0.1pg/mL |
| Human IFN-beta ELISA Kit | Serum, Plasma, Cell culture supernatants | 0.76 pg/ml |
| Human IFN-gamma ELISA Kit | Serum, Plasma, Cell culture superntants | 0.4 pg/mL |
| Human IL-1 alpha ELISA Kit | Human serum, plasma, cell culture supernatants | 1.2 pg/mL |
| Human IL-4 ELISA Kit | Human plasma, Cell culture supernatants | 1 pg/mL |
| Human IL-6 ELISA Kit | Serum, Plasma, Cell culture supernatants | 1.2 pg/mL |
| Human IL-10 ELISA Kit | Serum, Plasma, Cell culture supernatants | 2.3 pg/mL |
| Human IL-12 p40 ELISA Kit | Human serum plasma, Human urine, Cell culture supernatants | 0.47 pg/mL |
| Human IL-17A ELISA Kit | Serum, Plasma, Cell culture supernatants | 0.36 pg/ml |
| Human IL-17F ELISA Kit | Human Plasma, Cell culture supernatants | 14.4 pg/mL |
| Human IL-23 ELISA Kit | Serum, Plasma, Cell culture supernatants | 0.15 pg/mL |
| Human IL-27 ELISA Kit | Serum, Plasma | 0.1 pg/mL |
| Human IL-28A ELISA Kit | Human serum, plasma, cell culture supernatants | 0.12 pg/mL |
| Human IL-28B ELISA Kit | Human serum, plasma, cell culture supernatants , urine | 2.1 pg/mL |
| Human IL-29 ELISA Kit | Human plasma, Cell culture supernatants | 3.3 pg/mL |
| Human LIF ELISA Kit | Serum, Plasma, Cell culture superntants | 0.4 pg/mL |
| Human M-CSF ELISA Kit | Serum, Plasma, Cell culture supernatants, Urine, Saliva | 1.1 pg/mL |
| Human Thrombopoietin ELISA Kit | Human serum, plasma, cell culture supernatants | 2.6 pg/mL |
| Human TNF-alpha ELISA Kit | Serum, Plasma, Cell culture supernatants | 8.6 pg/mL |
| Human VEGF ELISA Kit | Serum, Plasma, Cell culture supernatants | 1 pg/mL |