Breast Cancer
Browse Proteintech's range of antibodies for breast cancer research, including HER2/ErbB2, PAX8 and ESR/ER.
---
Introduction
Breast cancer is the largest leading cause of death in women. It is not the primary breast tumor, but the metastases that are responsible for the high incidences of death. Although medical advances have been able to decrease the mortality rate, more and more women are developing breast cancer each year. (1)
HER2/ErbB2: Breast cancer diagnosis
HER2/ErbB2 (human epidermal growth factor) is a protein that can affect the growth of several cancer cells, and its overexpression has been  reported in numerous cancers, including breast and ovarian tumors. HER2 is a therapeutic target for the treatment of breast cancer (2) (3).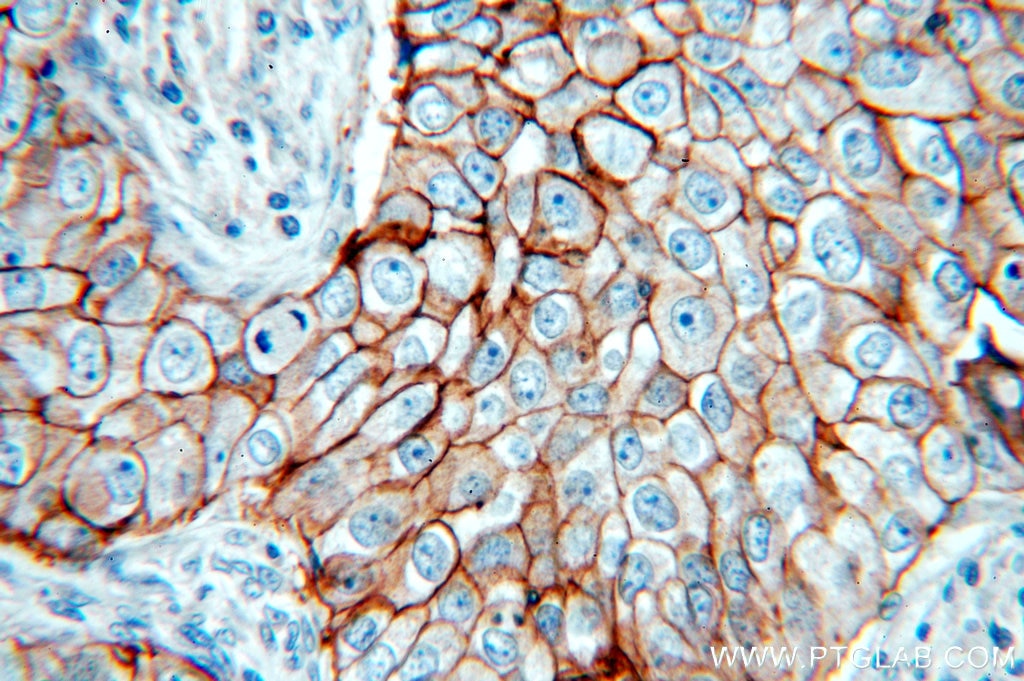 IHC staining of paraffin-embedded human breast cancer using HER2/ErbB2 antibody (51105-1-AP) at a dilution of 1:50 (40x objective).
Related Antibodies
PAX8: Promoting breast cancer proliferation
PAX8 is a member of the paired box (PAX) family, and is involved in oncogenesis. Several recent studies have shown that PAX8 facilitates important regulatory roles in breast cancer cell proliferation and tumor progression. (4) (5).
Related Antibodies
ESR/ER
The estrogen receptor (ESR/ER) is a ligand-activated transcription factor composed of several domains important for hormone binding, DNA binding, and activation of transcription. Expression and mutation of ESR/ER are common features in breast cancer. (6) (7).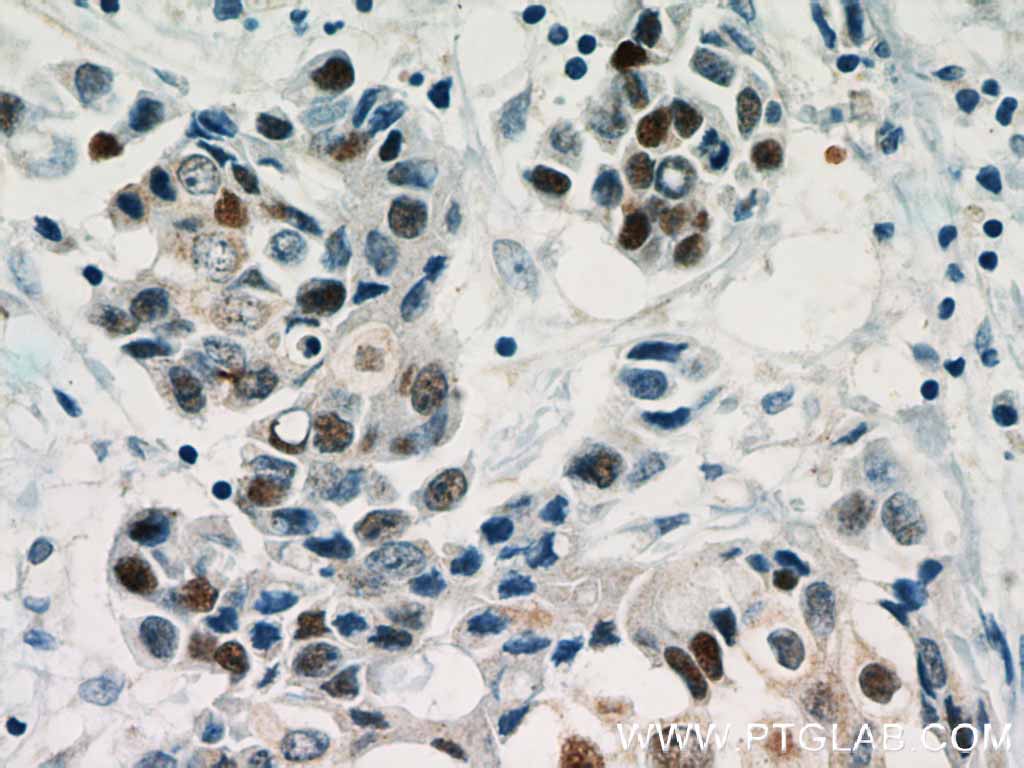 IHC staining of paraffin-embedded human breast cancer using ER antibody (21244-1-AP) at a dilution of 1.25 (40x objective). Heat mediated antigen retrieved with citric acid buffer, pH6.0.
Related Antibodies
More Breast cancer-related antibodies from Proteintech
References
(1) Eifel P, et al. J. Natl Cancer Inst, 2001; 93: 979–989.
(2) Flavia F, et al. BMC Cancer, 2013; 19: 13: 81.
(3) Lu Y, et al. Oncotarget, 2016; Mar 16.
(4) Zhong X, et al. BMP Rep, 2011; 44: 595–600.
(5) Xia X, et al. Onc Letters, 2015; 29: 1501–06.
(6) Nadji M, et al. Am J Clin Path, 2005; 123: 21–7.
(7) Rhodes A, et al. J Clin Pathol, 2000; 53: 688–96.
---
GAPDH Antibody
Catalog no.: 60004-1-Ig

GAPDH is commonly used as a protein loading control in western blot due to its consistently high expression in most cell types. This enzyme participates in several cellular events such as glycolysis, DNA repair, and apoptosis.

Proteintech monoclonal GAPDH antibodies are raised against a whole-protein antigen of human origin and have over 4,960 citations.
Beta Actin Antibody (KD/KO validated)
Catalog no.: 66009-1-Ig 

Beta-actin is usually used as a loading control due to its broad and consistent expression across all eukaryotic cell types and the fact that expression levels of this protein are not affected by most experimental treatments.

66009-1-Ig has been cited in over 2,460 publications and has wide species reactivity.